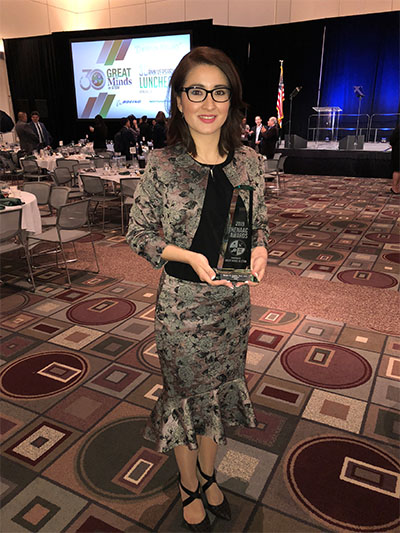 Dr. Krystel Castillo, Director of UTSA's Texas Sustainable Energy Research Institute (TSERI), was counted among 27 outstanding scientists, engineers, and other STEM professionals as Great Minds in STEM 2018 Class of Hispanic Engineer National Achievement Awards Conference (HENAAC) Award Winners at the 30th Anniversary HENAAC Conference, "Generation Xcellence" in Pasadena, CA October 17-21, 2018. Click here to view the list of award recipients.
Great Minds in STEM is a 501(c)3 non-profit organization dedicated to keeping America technologically strong by promoting Science, Technology, Engineering, and Math (STEM) careers, especially in underserved communities. Established in 1989 and based in the Los Angeles area, the organization's nation-wide programming focuses on STEM educational awareness from kindergarten through college, and on seeking-out and documenting the world-class contributions of Hispanic professionals in STEM to serve as role models for the next generation of American engineers and scientists.
Great Minds in STEM's annual HENAAC Conference is the organization's flagship event where all elements of outreach and programming come together to celebrate excellence in STEM.