2022 Summer Career Academy in Architecture & Interior Design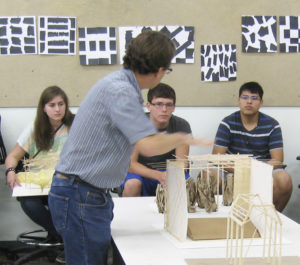 Summer Academy in Architecture and Interior Design at UTSA offers an on-line and in-person introduction to the design careers and education of architects and interior designers. Taught by faculty of the Department of Architecture, the Summer Academy provides insight into the creative processes and professional practice of architecture and interior design.
Participation in the program is intended to help high school and college students discover whether architecture or interior design is right for them. Previous design experience is not required. Curiosity is the only prerequisite.
Design & Career Exploration
In-person session will hold daily classes in the design studios of UTSA's Department of Architecture. Academy participants will be introduced to many of the challenges and rewards involved in creating the designed environments.
The Summer Career Academy is for high school students and others interested in architecture and interior design careers. Both the in-person and on-line programs will include daily exercises, discussions, and the opportunity to interact with design professionals, faculty, and design students. Admission is on a first come – first served basis. Space is limited to 40 students.
Programs will include: visual and interactive design exercises that engage personal exploration in introducing basic design skills such as: sketching, creative and spatial thinking, digital modeling, and the organization of architectural information. Special field trips and/or presentations will connect you to local architecture and interior design professionals.
UTSA Dept of Architecture & Planning Summer Academy participants will: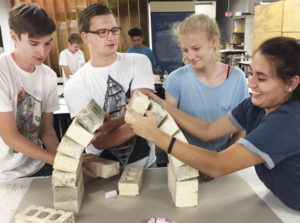 • develop an appreciation of the designed environment
• become familiar with actual construction and design practice
• explore drawing, digital modeling, and design thinking
• explore creative and visual thinking skills
• utilize observation and communication skills
• gain clarity about the education of design professions
In-Person and Online Academy Available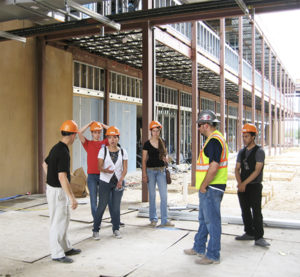 Program dates: June 6 – 17
All meeting times are from 11:30am - 4:00pm
In-person Summer Academy program is not an overnight camp.
Participants will be expected to complete exercises during meeting times
Program Fee: $650 (includes all necessary tools and supplies)
Must be a current High School student or older; min. 15 years old as of June 1, 2022.
Space is limited to 40 students.
Participants receive FREE UTSA T-shirt, sketchbook, pencils, and ruler.
Tentative program dates : July 5 – 28  Meetings on Tuesdays & Thursdays
All meeting times are from 9:00am  -  Noon
Participants will be expected to complete exercises between meeting times.
Meeting sessions will be recorded and made available for up to 7 days.
Program Fee: $650  Must be a current High School student or older.
Participants must be minimum 15 years old as of June 1 2022.
Space is limited to 40 students.
.
COMPLETE YOUR APPLICATION FOR THE SUMMER ACADEMY IN ARCHITECTURE AND INTERIOR DESIGN
Click here for the application
The application also allows qualified applicants to apply for tuition assistance. Tuition assistance will be considered on a need-based basis. Availability is limited so please apply as soon as possible.
For more information, please contact: