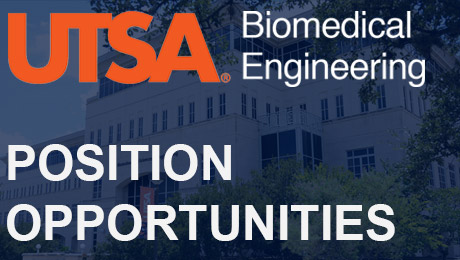 The Department of Biomedical Engineering (BME) at the University of Texas at San Antonio invites applications for two tenured/tenure-track positions at the Assistant, Associate or Full Professor levels. Candidates with research programs in the areas of biomechanics, regenerative medicine, neural engineering or cancer are encouraged to apply.  Required qualifications for the positions include a doctorate in biomedical engineering or a closely related field, promise for excellence in undergraduate and graduate teaching, and ability to establish an extramurally-supported research program and, at higher ranks, a track-record of scholarly publications, and sustained research funding are expected.  Responsibilities for the positions include research, course development and teaching, and service.  The successful candidate is expected to start in the Fall of 2018.
The undergraduate BME program has tracks in biomaterials/tissue engineering, biomechanics, and imaging/nanotechnology. The graduate BME program is part of the Joint Graduate Program in Biomedical Engineering between UTSA and the University of Texas Health San Antonio and offers M.S. and Ph.D. degrees in Biomedical Engineering. Core and associated faculty in the Graduate BME Program have ongoing research in the areas of biomaterials, biosensors, imaging, nanotechnology, cellular and tissue engineering. The BME Department, UTSA and San Antonio area particularly committed to further strengthening research in the area of regenerative medicine. Additional information about the BME department can be found at https://ceid.utsa.edu/biomedical/ while information about the graduate program can be found at http://gsbs.uthscsa.edu/graduate_programs/biomedical-engineering.
San Antonio is located in South Central Texas and enjoys mild winters and an affordable cost of living.  The city is a hub for both the medical and bioscience industries and is home to the San Antonio Military Medical Center, Southwest Research Institute, Texas Biomedical Research Institute, University of Texas Health  San Antonio, and a number of biotech companies. Faculty and students in the BME Program are actively engaged in collaborative projects of mutual interest with the aforementioned organizations.
Applicants should submit a cover letter indicating the rank they are applying for and whether their research fall into category (1) biomechanics and regenerative medicine or (2) neural engineering and cancer. In addition, the application should include a detailed Curriculum Vitae, a statement of research interests, a statement of teaching interests, and complete contact information for at least three professional references.  Applicants who are selected for interviews must be able to show proof that they will be eligible and qualified to work in the United States by the time of hire.  Review of complete applications will begin on November 15, 2017.  Applications will be considered until the position is filled.
Applications must be submitted through the UTSA web portal https://jobs.utsa.edu/postings/search. Applications in the area of biomechanics and regenerative medicine should apply to requisition number TT20170034P and neural engineering or cancer apply to requisition number TT20170035P . Questions regarding this search can be addressed to the:
Chair, Faculty Search Committee
Department of Biomedical Engineering
University of Texas at San Antonio
One UTSA Circle San Antonio, TX 78249
UTSA is an Affirmative Action/Equal Opportunity employer. Women, minorities, veterans, and individuals with disabilities are encouraged to apply. Tenure is contingent on Board of Regents approval.