M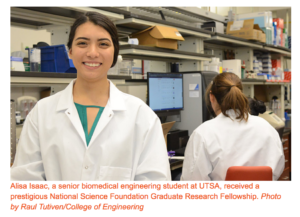 eet Alisa Isaac. She is one of the two UTSA College of Engineering students who received a prestigious National Science Foundation (NSF) Graduate Research Fellowship. According to the NSF, this fellowship program nurtures innovation and leadership in the United States by recruiting and supporting outstanding students with high potential in science, technology, engineering, and mathematics.
"Not many undergraduate students are aware that the NSF Fellowship application is available before they are admitted into graduate school," said Isaac. "My sister Kameel (a Ph.D student at The University of Texas – Austin) told me to take advantage of this great opportunity and I am so glad I did."
Isaac's parents helped her with her personal essay for the fellowship, and they were extremely proud of her once they heard the news that she was one of the winners.
"I didn't think I was going to receive the fellowship because my GPA is not highly competitive," said Isaac. "But my family and co-workers at the Institute of Surgical Research (ISR) encouraged me to apply. I believe it's extremely important to apply to every scholarship that you qualify for, because you never really know what the committees may be looking for."
Isaac, a senior biomedical engineering student, was born and raised in Tokyo but moved quite a bit due to her father working for the Air Force. She has been living in San Antonio for 10 years and now calls it home.
Isaac was inspired to apply for the fellowship because the award could open many doors for her and help finance her research in biomaterials, applications in tissue engineering, and regenerative medicine. She hopes to make new discoveries in the biomedical field in her graduate work that will be supported by the fellowship that provides three years of financial support within a five-year fellowship period consisting of a $34,000 annual stipend and $12,000 cost-of-education allowance to the graduate institution.
Isaac enjoys her time at UTSA and is appreciative of the opportunities that come from being a student in the College of Engineering. She said that she notices many students take time off between their undergraduate and graduate degrees, but what keeps her going is the thought of completing her education.
"I don't want to be in a position where I regret not continuing my education, I'd rather push on through," she said.
Besides studying, Isaac also enjoys dancing (especially hip hop and jazz), traveling, and cooking. Isaac is involved with many organizations at UTSA: she is the president of Tau Beta Pi an engineering honor society, a UTSA Ambassador, and a member of Texas Angels which is a group of young women focused on empowerment, networking, and service. Additionally, Isaac is currently conducting research at an internship at the Institute of Surgical Research.
"I enjoy being able to be creative and analyze problems in the research environment," she said. "Being an intern at ISR, I walk through the hospital to reach the research center and along the way I see the injured soldiers for whom I conduct research for. That helps me get through my long days!"
Isaac says that her mentor, Christine Kowalczewski, aspires her every day with her positivity, especially in the lab. Kowalczewski helped prepare her for graduate school by teaching her lab techniques and how to create experiments to address medical problems, and she also helped proof read and hone her proposal for the fellowship.
Isaac said winning National Science Foundation Graduate Research Fellowship will make it much easier for her to follow her research interests after she completes her bachelor's degree at UTSA and she hopes that fellowship will open new doors that will make her stand out a little bit more from the other Ph.D. students when applying for future jobs.
"I appreciate that the NSF committee took the time to look through my essays and see the potential that I have." Isaac said. "They thoroughly read my essays and provided feedback, rather than having a GPA cut-off requirement. I am so thankful for this opportunity."
by Raul Tutiven/College of Engineering