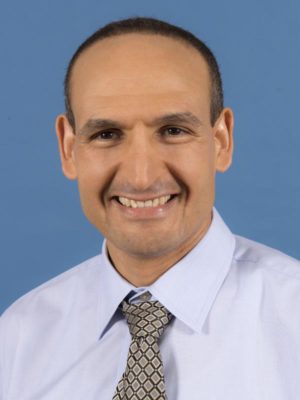 Associate Professor
AET 1.332
Associate Professor
Department of Chemical Engineering
Educational Background
M.Sc. and Ph.D. (National Institute of Laser Enhanced Sciences (NILES) at Cairo University and Zagazig University, Egypt.
Postdoctoral research (Laser Dynamics Lab at Department of Chemistry and Biochemistry at the Georgia Institute of Technology).
Research Scientist (Georgia Institute of Technology).
Areas of Research Interest:
Study the mechanism of the nanocatalysis and photocatalysis in the individual particle and the single molecule resolution
Renewable Energy
Study the mechanism of the growth of the nanocrystals
Development of new 1-D, 2-D, and 3-D smart functional materials
Spectroscopy and the photophysics of nanomaterials
Computational modeling of nanomaterials
Description of Research
The broad goal of the research in our lab is to develop a variety of novel functional nanomaterials that could have potential applications in the field of energy, catalysis, optics, sensing, biology, electronics, and environment. High-resolution electron and optical microscopic techniques are used to conduct measurements in the resolution of individual particle and single molecule. We work to enhance the properties of the functional nanomaterials by engineering their assembly and improving their structural design based on the information obtained from the ultra-high resolution measurements.
As members of the chemical engineering community, we focus on developing new techniques to produce nanomaterials of optimized shapes, sizes, compositions, and structures on large scales for industrial applications by simple chemical processes. The prepared nanomaterials are assembled into 2-D or 3-D arrays and can be functionalized with organic polymers for use in optoelectronics, solar cell materials, optical filters and polarizers, nanocatalysis and photocatalysis, nanosensing, and nano-switching.
Catalysis is responsible for the efficient production of over 90% of consumer materials. The field of catalysis is rapidly expanding and has an important impact on numerous technical fields such as chemical production, sustainable energy, and materials chemistry. Our research in this field has the potential to find new catalysts of industrial importance that reduce the production cost of the catalyst and improve its stability and catalytic efficiency. Furthermore, our research directed towards enhancing the catalytic activity of cathode and anode materials within fuel cells. Finally, the mechanism of the catalytic and photocatalytic reactions will be studied in-situ during the catalysis reaction by operando techniques.
Selected Publications: