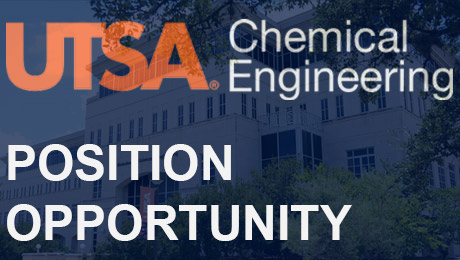 The Chemical Engineering Program at the University of Texas at San Antonio invites qualified applicants for a Tenure Track Assistant or Associate Professor position. Candidates with a commitment to innovative teaching and a research focus in all areas of chemical engineering (e.g. energy and sustainability, soft materials and complex fluids, catalysis and reaction engineering, materials sciences, process control, or plant simulation and design) are encouraged to apply. The candidate will be expected to work closely with a diverse population of undergraduate and graduate students, develop an externally funded research program, and build strong government and/or industrial research collaborations. The applicants should hold a Ph.D. in Chemical Engineering, or a closely related discipline. The applicant must have demonstrated research success as evidenced by a strong record of scholarly publication. Candidates having an exceptional track record in teaching and scholarship, with relevant academic program accreditation experiences, are desired.  The ideal candidate will be a highly motivated self-starter, have excellent written and oral communications skills, and be committed to interdisciplinary research.
The Chemical Engineering Program was started in the fall of 2017 with an undergraduate program. The program is growing into a department, which will be housed in the new Science and Engineering Building (SEB) that opens in 2020. Candidates will be expected to play an active role in the development of the Department of Chemical Engineering and its educational and research programs. The Chemical Engineering Program is part of the College of Engineering and new faculty have the option of joint appointments in other departments with graduate programs. The College of Engineering comprises four departments (Biomedical Engineering, Civil and Environmental Engineering, Electrical and Computer Engineering, and Mechanical Engineering) offering both undergraduate and graduate programs at all levels leading to Ph.D. degrees. The college also offers Interdisciplinary M.S. Programs in Advanced Materials Engineering and Advanced Manufacturing & Enterprise Engineering.
San Antonio is located in South Central Texas and enjoys mild winters and an affordable cost of living.  The San Antonio area is a hub for both the energy and petrochemical industries and is home to the San Antonio Military Medical Center, Southwest Research Institute, Texas Biomedical Research Institute, and the University of Texas Health San Antonio. Faculty is actively engaged in collaborative projects of mutual interest with the aforementioned organizations.
The University of Texas at San Antonio is an equal opportunity/affirmative action employer. The Department is interested in candidates that will contribute to diversity and equal opportunity in higher education through their teaching, research, and service. Protected veterans and individuals with disabilities are encouraged to apply at https://jobs.utsa.edu/. Applications should include (1) a cover letter that identifies expertise in at least one of the two focus areas; (2) research statement; (3) teaching statements; (4) curriculum vitae, and (5) the names and contact information of at least three references.  Incomplete applications will not be considered.
Review of completed applications will begin on December 5, 2017 and will continue until the positions are filled.  Questions regarding this search can be addressed to the:
Chair, Faculty Search Committee
Chemical Engineering
University of Texas at San Antonio
One UTSA Circle
San Antonio, TX 78249-0712