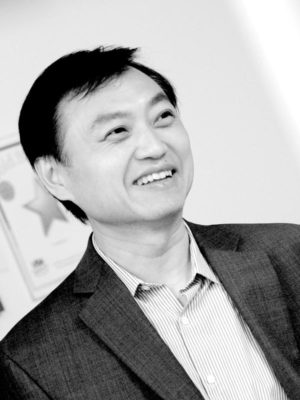 Professor
Department of Biomedical Engineering
Educational Background
Ph. D., University of Tsukuba, Japan
B. S., Huazhong University of Science and Technology, China
Certificate in MBA, MBA Essentials and Entrepreneurship Program, Ross School of Business at the University of Michigan, Ann Arbor, USA
Areas of Teaching Interest:
Biophotonics
Biomedical Imaging
Areas of Research Interest:
Advanced Biophotonics and Nanotechnology Laboratory
Dr. Ye's research covers a wide range of areas in biomedical optics and nanobiotechnology, with special emphasis on the development of cutting-edge ultrasensitive and ultrafast laser-based technologies and methodologies to address critical issues at the frontier of biomedical science and technology. He has led multiple exciting research programs funded by NIH, USDA, DoD, and several other private funding agencies. His research activities involve:
Label-free bioassays with a photonic crystal biosensor for a wide range of applications, including noninvasive detection of prostate cancer, cardiac research, and peptide screening for genetic treatment of soybean disease
Photoacoustic imaging with a unique optoacoustic sensor for cancer diagnosis and monitoring of drug delivery
In vivo fiber-optic fluorescence biosensing and imaging for brain research and for quantifying targeted drug delivery
Drug toxicity screening with a label-free biosensor in conjunction with an organ-on-a-chip technology
Ultrafast laser interaction with nanoparticle targeted cancer cells
Fiber scanning multiphoton microscopy
In vivo two-photon flow cytometry
Adaptive optical aberration correction in confocal microscopy, and
Single-molecule fluorescence imaging and spectroscopy.
Professional Service/Consultations:
Dr. Ye has served as a grant reviewer for funding agencies including NIH, NSF, FDA, Petroleum Research Fund, United States-Israel Binational Science Foundation, the James & Esther King Biomedical Research Program and the Bankhead-Coley Cancer Research Program. He has also served as a reviewer for over 30 scientific journals. He currently serves as the Vice Chair of the Executive Committee for the Molecular Probes and Nanobio-Optics Technical Group of the Optical Society of America and is a senior member of IEEE. He was also elected as the president for the Ann Arbor Section of the Optical Society of America in 2008-2009. In addition, Dr. Ye is a co-founder of Photon Affinity LLC and on the advisory board of a biotech company, and has served as a professional consultant for five companies including Olympus Corp., Japan, IMRA America, Inc., Self-Guided Systems, LLC, OptiScan, and KCI Inc.
Honors & Awards:
Faculty Excellence in Research Award, College of Engineering, The University of Texas, San Antonio, 2017
NASA Patent Application Award, 2011
Outstanding Research Scientist Award, College of Engineering, University of Michigan, 2006-2007
Senior Member, Institute of Electrical and Electronics Engineers (IEEE), since 2002
NEDO Fellow, New Energy and Industrial Technology Development Organization of Japan, 1999
JRCAT Award for outstanding researchers, 1998
Finalist for Inoue Prize, 1997
Japanese Government (Monbusho) Scholarship for Postgraduate Research (1993-1997)
To prospective students:
Highly motivated students are welcome to work on a wide range of exciting research projects in our lab. If interested, please contact Dr. Ye to inquire the possibilities.