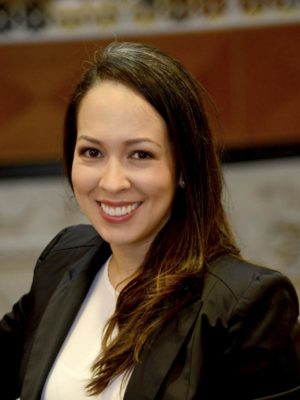 Senior Lecturer
Department of Biomedical Engineering
Educational Background:
B.S. School of Engineering of Antioquia, Medellin, Colombia
Ph.D. The University of Texas at San Antonio, San Antonio, Texas, USA
Areas of Teaching Interest:
Biomaterials
Biomechanics
Tissue Engineering
Device Design
Areas of Research Interest:
Spatio-temporal delivery of growth factors for vascularized bone tissue regeneration
Drug delivery and microencapsulation
Synthetic biomaterials for bone regeneration
Vascular regeneration in bone healing
Description of Research:
The focus of my research has been motivated on craniomaxillofacial (CMF) injuries, which have serious physical and functional consequences in the civil and specially, in the military population. Clinically accepted bone regenerative therapies have raised many concerns in the CMF region due to the risks related to inflammation in the head and neck area. This has drawn our interest to develop lower dose BMP-2 therapies to overcome safety and efficacy concerns. Therefore, with the motivation of evaluating safer therapies and answering questions about potential inflammation, heterotopic bone formation and high vascularization to ensure safer therapeutic windows for growth factors the goal of our research has been to evaluate spatio-temporal growth factor delivery effects on vascularization during bone tissue regeneration. In order to do this, we have evaluated the effect of combined early and extended delivery of rhBMP-2 on the angiogenic and osteogenic response in in vitro, as well as in segmental mandibular bone defects in small and large animal models. Our findings have lead us to propose safer therapies for bone regeneration, and although there are still many questions, better understanding of the mechanisms that play roles in tissue healing could represent a very valuable contribution in the tissue engineering field.
Selected Publications
Ong, Joo L, Guda, T. Translating Biomaterials for Bone Graft: Bench-top to Clinical Applications (co-author). 2017, CRC Press (ISBN 978-1-4665-9862-1)
Actis, L., Gaviria, L., Guda, T., Ong, J.L. Antimicrobial Surfaces for Craniofacial Implants: State of the Art. J Korean Association of Oral and Maxillofacial Surgery. 2013; 39: 43-54.
Gavirial, L., Salcido, J.P., Guda, T., Ong, J.L. Current Trends in Dental Implants. J Korean Association of Oral and Maxillofacial Surgery. 2014; 40:50-60.