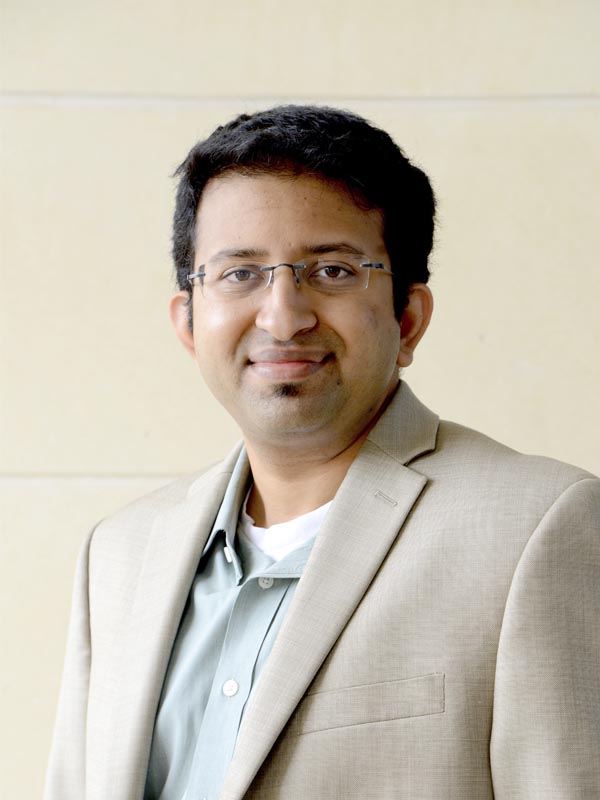 Associate Professor | Jacobson Distinguished Professor of Innovation and Entrepreneurship
AET 1.364
Associate Professor
Jacobson Distinguished Professor of Innovation and Entrepreneurship
Department of Biomedical Engineering
Educational Background:
B.Tech, ME, Indian Institute of Technology, Bombay, India
Ph.D., BME, University of Texas at San Antonio / University of Texas Health Science Center at San Antonio
Post-doc, Wake Forest Institute for Regenerative Medicine
Awards
Young Innovator, Cellular and Molecular Bioengineering (2020)
National Science Foundation CAREER Award (2019)
Richard S. Howe Outstanding Undergraduate Teacher (2018)
The Academy of Medicine, Engineering & Science of Texas Protégé Invitee (2016-20)
Faculty Mentor Award for Undergraduate Research, UTSA (2016)
Faculty Excellence Award in Service, College of Engineering, UTSA (2016)
Faculty Excellence Award in Teaching, College of Engineering, UTSA (2015)
Areas of Research Interest:
Bioreactors for musculoskeletal tissues
Bone tissue engineering
Interplay of biophysical and biochemical stimuli
Cell and drug delivery for orthopedic regeneration
Mechanical modeling of biological architectures
Areas of Teaching Interest:
Tissue Mechanics
Regenerative Medicine
Biomaterials
Medical Device Design
Biomedical Technology Commercialization
Description of Research:
Our primary research has been focused on matrix mechanics to drive biomaterials translation for tissue engineering and regenerative medicine applications. Current interests are focused on developing regenerative strategies for bone and skeletal muscle tissue engineering. We are specifically interested in the 3D architectures of porous materials, the use of biophysical stimulation using bioreactors and the use of micro computed tomography as a modeling tool. Specific applications being developed in the lab include hydroxyapatite ceramics for bone, vascularization in hydrogels for bone and skeletal muscle, composite structures for laryngeal reconstruction, bioreactors developed for ligament and dental restorative research and organoid evaluation for salivary gland and pediatric cancer drug discovery.
In support of the tissue regeneration efforts, our lab focuses on the correlation of in vivo bone and vessel morphology using micro computed tomography and computational biomechanics analyses to scaffold structure and matrix properties. The evaluation of mechanical properties along the translation of the scaffold from material synthesis, through in vitro testing and in vivo evaluation provides a powerful predictive analysis tool with built in feedback for design improvements. Similarly, the lab develops bioreactor models and surgical support infrastructure and instrumentation for the delivery of novel therapeutics. This includes applications in targeted drug delivery as well as minimally invasive surgical platforms.
Specifically, on-going projects focus on the employment of mechanical stimulation regimes in bioreactors to improve engraftment of bone and muscle substitutes. The compliance of substrates has a profound influence on the stem cell response and this effect is enhanced by applied mechanical loads. Studying the relative impact of these cues on directed cellular differentiation is important to develop appropriate materials for musculoskeletal interfaces, where there is a steep gradient in mechanical properties. Our research has been supported by the National Science Foundation (NSF), National Institutes of Health, the Department of Defense, and various private foundations and multiple collaborative projects with industry.
Selected Publications
Chiou G, Jui E, Rhea AC, Gorthi A, Miar S, Acosta FM, Perez C, Suhail Y, Chen Y, Ong JL, Bizios R, Rathbone CR, Guda T. Scaffold Architecture and Matrix Strain Modulate Mesenchymal Cell and Microvascular Growth and Development in a Time Dependent Manner. Cellular and Molecular Bioengineering. 2020 Aug 18:1-20.
Pearson JJ, Gerken N, Bae C, Lee KB, Satsangi A, McBride S, Appleford MR, Dean DD, Hollinger JO, Ong JL, Guda T. In vivo hydroxyapatite scaffold performance in infected bone defects. Journal of Biomedical Materials Research Part B: Applied Biomaterials. 2020 Apr;108(3):1157-66.
Carlisle P, Marrs J, Gaviria L, Silliman DT, Decker JF, Brown Baer P, Guda T. Quantifying Vascular Changes Surrounding Bone Regeneration in a Porcine Mandibular Defect Using Computed Tomography. Tissue Engineering Part C: Methods. 2019 Dec 1;25(12):721-31.
Pearson JJ, Ortiz AS, Montelongo S, Simpson CB, Guda T, Dion GR. Quantification of injection force mechanics during injection laryngoplasty. The Laryngoscope. 2019 May;129(5):1060-6.
Miar S, Perez CA, Ong JL, Guda T. Polyvinyl alcohol-poly acrylic acid bilayer oral drug delivery systems: A comparison between thin films and inverse double network bilayers. Journal of Biomaterials Applications. 2019 Oct;34(4):523-32.
Pollot BE, Rathbone CR, Wenke JC, Guda T. Natural polymeric hydrogel evaluation for skeletal muscle tissue engineering. Journal of Biomedical Materials Research Part B: Applied Biomaterials. 2018 Feb;106(2):672-9.
Gaviria L, Salcido JP, Guda T, Ong JL. Current trends in dental implants. Journal of the Korean Association of Oral and Maxillofacial Surgeons. 2014 Apr 1;40(2):50-60.
Barrow AE, Pilia M, Guda T, Kadrmas WR, Burns TC. Femoral suspension devices for anterior cruciate ligament reconstruction: do adjustable loops lengthen? The American journal of sports medicine. 2014 Feb;42(2):343-9.
Guda T, Walker JA, Singleton BM, Hernandez JW, Son JS, Kim SG, Oh DS, Appleford MR, Ong JL, Wenke JC. Guided bone regeneration in long-bone defects with a structural hydroxyapatite graft and collagen membrane. Tissue Engineering Part A. 2013 Sep 1;19(17-18):1879-88.
Brown KV, Li B, Guda T, Perrien DS, Guelcher SA, Wenke JC. Improving bone formation in a rat femur segmental defect by controlling bone morphogenetic protein-2 release. Tissue Engineering Part A. 2011 Jul 1;17(13-14):1735-46.
Dong XN, Guda T, Millwater HR, Wang X. Probabilistic failure analysis of bone using a finite element model of mineral–collagen composites. Journal of biomechanics. 2009 Feb 9;42(3):202-9.
* UTSA student co-authors are underlined