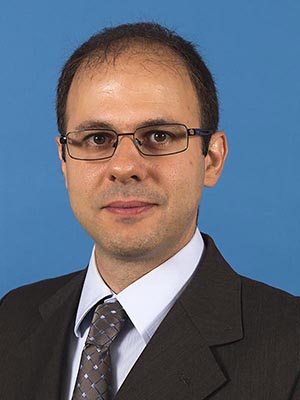 Associate Professor Wassim Ghannoum, Ph.D., P.E., of the UTSA College of Engineering's Civil and Environmental Engineering Department has been awarded the American Concrete Institute (ACI) Henry L. Kennedy Award and the Delmar L. Bloem Distinguished Service Award, bestowed specifically for "dedicated service to the development of a national standard for seismic rehabilitation of existing reinforced concrete buildings and outstanding contribution as Chair of ACI Committee 369 (Seismic Repair and Rehabilitation)."
These awards will be presented to Dr. Ghannoum at the ACI Spring 2019 Concrete Convention and Exposition on March 24, 2019.
The Henry L. Kennedy Award was established in 1958 by ACI to honor the late Henry L. Kennedy, past president of ACI. The award is given only for outstanding technical or administrative service to the Institute. The basis for selection of awardees is outstanding activity or service that has enhanced ACI's prestige, marked leadership in technical, administrative, or special committee work, or other distinguished service to ACI.
The Delmar L. Bloem Distinguished Service Award is given to a current or recent chair of a technical committee in recognition of outstanding performance.
The American Concrete Institute is a leading authority and resource worldwide for the development, distribution, and adoption of consensus-based standards, technical resources, educational programs, and proven expertise for individuals and organizations involved in concrete design, construction, and materials, who share a commitment to pursuing the best use of concrete.