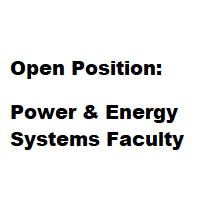 Faculty Positions in Power/Energy Systems in Electrical and Computer Engineering
The Department of Electrical and Computer Engineering at the University of Texas, San Antonio (UTSA) invites applications for one tenure-track/tenured level position starting Fall 2022 at the Assistant, Associate, or Full Professor level in Power/Energy Systems. For additional information about the position, visit https://ceid.utsa.edu/electrical-computer/. By the time of hire, the successful candidate must have a Ph.D. degree in Electrical Engineering, Computer Engineering or related areas with outstanding academic credentials that clearly demonstrate his/her ability to conduct independent and successful research in their areas of expertise and to build cross-disciplinary research programs. The successful candidates must also have excellent communications skills to teach courses at the undergraduate, master's and doctoral levels as well as demonstrated ability to work with and be sensitive to the educational needs of diverse urban populations and support the University's commitment to thrive as a Hispanic Serving Institution and a model for student success. Tenure appointments are contingent upon Board of Regents approval.
The Department has approximately 30 faculty, and includes NSF CAREER Award winners, Fellows of the IEEE and AAAS, and Distinguished University Professors. Salary and benefits are competitive and commensurate with qualifications and experience.
Application packages should be submitted to: https://bit.ly/3A2AdMP. All applications received by priority deadline of October 25, 2021 will be given first preference for consideration. Applications received after that date will be reviewed if the position is not filled. Applicants selected for interviews must show proof that they will be eligible and qualified to work in the United States by the time of hire. Incomplete applications will not be reviewed.
Questions may be directed to Dr. David Akopian, Chair of Search Committee, at david.akopian@utsa.edu.
UTSA is an Affirmative Action/Equal Employment Opportunity Employer. Women, minorities, veterans and individuals with disabilities are encouraged to apply.