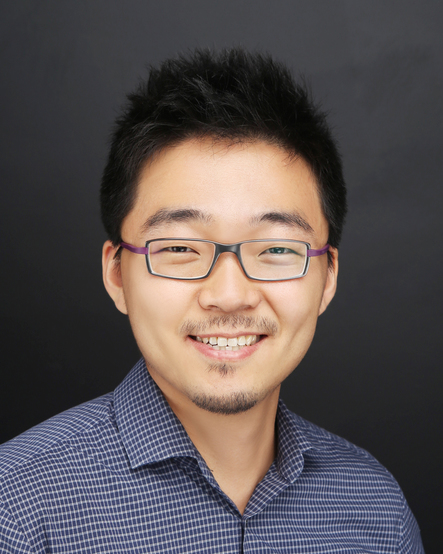 Ethan Ahn, Ph.D. is an Assistant Professor of Electrical Engineering in UTSA's College of Engineering.
Please tell us about yourself. 
I am faculty researcher and instructor in the field of nanoelectronics. I am the founder and principal investigator of the UTSA Nanoelectronics Laboratory, while also serving as an adjunct graduate faculty in the Physics Department at Texas State University in San Marcos. I enjoy drinking wine and beers, and write blog articles about baseball, quantum mechanics, k-pop music, drama, and movies in my free time.
What is your job title and what do you do?
I am a tenure-track faculty member (Assistant Professor) of Electrical Engineering at UTSA. I previously served as a Senior Process Engineer at Apple and as a Post-Doctorate Researcher at Stanford University (where I earned my Ph.D.) before joining UTSA. I do research by supervising ten Electrical Engineering students, and teach Introduction to Micro & Nanotechnology, Principles of Microfabrication, and Magnetism and Magnetic Materials.
What brought you to UTSA?
UTSA offered me a good faculty position along with excellent initial support including travel, students, start-up grants, and a laboratory space. Since I envision UTSA as a rapidly growing university in STEM, I wanted to join UTSA to grasp the opportunity and make some great contributions in my field. Leaving the expensive west coast area (California) and living in a more affordable place like San Antonio was another deciding factor in my move to UTSA.
Tell me about your research and what led you to your field.
My research includes the development of nandevices for electronics of the future such as neuromorphic or quantum computing, novel energy harvesting and storage, and robotics. I am currently leading the UTSA Nanoelectronics Laboratory housed in the thriving UTSA downtown campus, and have been published in more than 50 research papers in high-profile journals and conferences including Nature (Communications, Reviews Materials), Nano Letters, and VLSI Symposium. Professor Datta at Purdue University, a leading figure in the field, who I met in 2004 as an exchange senior student, has greatly influenced and motivated me, leading me to Nanoelectronics.
What is your first memory associated with engineering?
My very first memory related to engineering is probably when I built an FM radio from a kit when I was very young. It was simply so much fun to plug in various tiny circuit elements and do some soldering with wires. Back then, I thought engineering was a great discipline that enables such a creative product, and I still believe that a creative engineer is the one who makes the world better or even completely changes the world.
What is the most challenging part of your job?
I believe it is the most challenge (and important) for a faculty member to be patient all of the time when giving a lecture in class and/or advising a student for research. This is also the case for me. Although it is quite hard, I always try to think from the student's point of view. I understand that students usually come with insufficient knowledge, backgrounds, and experiences, and this is truly why I am here to mentor, teach, and educate students.
What is your favorite part of your job?
The real joy that I derive from my job is knowing that I've somehow helped and motivated the student I teach or work with. I don't often hear much about these rewarding experiences, but recently a doctoral student who did really well in one of my graduate course and got an A+, sent me an email saying that she got an offer from Intel and thanking me for all that I have taught in the class. It seems that my teaching really helped her to answer some of the interview questions. Experiences like this give me energy to become a better mentor for students.
Who was your most important mentor and why?
The answer is definitely my dad. He has been a great father and mentor in my whole life. He basically taught me how we should live. Since I learned from him that the most important value of our life is not success but happiness, I was always able to make the best decisions and have no regrets. My dad was also very understanding, social, and mediating, thus leading me to believe that maintaining good relationships with others is very important, even for scientists and engineers. I believe this is why I am here now with an enjoyable career as an engineer and faculty researcher.

If you could travel anywhere, where would you go?
I wish I could travel to 20 years later. This is not impossible because a quantum theory (entanglement) states that information can be instantaneously transmitted across both time and space. Given that we went through unprecedented advances in technology during the past decade, I would imagine that our life after 20 years would be something that we've never thought about. By knowing about it in advance, I can perhaps write a very good research proposal. Wouldn't it be cheating then, by the way?
If you could have dinner with one person, living or dead, who would it be and why?
I recently watched a movie, Selma, and got so much inspiration from the story of Martin Luther King, Jr. I wish I could meet with him and have dinner together. He was a great speaker, influencer, and persuader in addition to being a Nobel Prize winning activist in human rights. I wish to learn from him on how to speak to influence people and ask how he was able to think about human rights. I imagine how nice it would be if we could send a letter to him and tell him about the former U.S. President, Barak Obama.