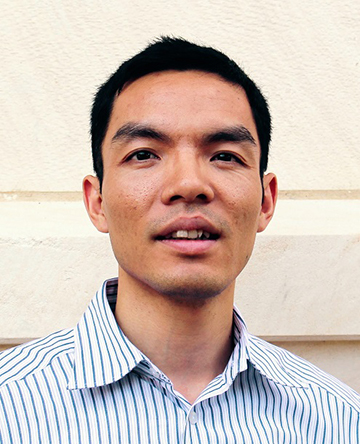 Yongcan Cao, Ph.D.is an Assistant Professor of Electrical and Computer Engineering in UTSA's College of Engineering.
Please tell us about yourself.
I am originally from China. In 2006, I came to the United States to pursue my Ph.D. at Utah State University. Before joining UTSA, I worked at the Air Force Laboratory, Wright Patterson AFB, OH.
What is your job title and what do you do?
I am currently an Assistant Professor in the Department of Electrical and Computer Engineering. My team is working on the development of next-generation autonomous systems to address intelligence, safety, reliability, and efficiency.
What brought you to UTSA?
I was very impressed by UTSA's fast growth and enthusiasm to become a Tier One University. San Antonio is a vibrant metropolitan that offers various opportunities.
Tell us about your research and what let you to your field.
My research focuses on the advancement of our fundamental understanding of unmanned systems and their collaboration with/without humans. My past education, collaboration, and research experiences led me to my current research field.
Tell us about your college experience. Where did you receive your bachelor's degree? Master, etc.
I received my bachelor's and master's degrees in China. My college education provided me with a strong background in mathematics, physics, basic engineering concepts and principles, and the interest in learning more advanced knowledge.
What was your college experience like in general?
A little anxious at the beginning; stressed when facing difficult courses; happy to make accomplishments in study and make friends.
What is your favorite part of your job?
I like numerous aspects of my job. One particular one is the success of the students.
Share five words (or less) of advice.
Persistence, hard-working, and collaboration.
Growing up, what did you want to be?
I wanted to be an engineer that can improve humans' lives.
If you could pick one superpower, what would it be?
To fly.