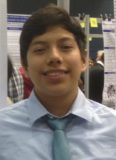 Richard Garcia
Prior student
Graduated with a B.Sc. in Chemical Engineering 2021
Martinelli, M., Garcia, R., Watson, C.D., Cronauer, D.C., Kropf, A.J., Jacobs, G., "Promoting the selectivity of Pt/m-ZrO2 ethanol steam reforming catalysts with K and Rb dopants," Nanomaterials, MDPI  (Special Issue titled " Tuning the Physicochemical Properties of Nanostructured Materials through Advanced Preparation Methods, Guest Ed.: J. Vakros, Ed. S. Freakley) 11(9) (2021) 2233 (24 pp.). https://doi.org/10.3390/nano11092233
Gnanamani, M.K., Garcia, R., Jacobs, G., Gora-Marek, K., Cronauer, D.C., Kropf, A.J., Marshall, C.L., "Effect of pretreatment conditions on acidity and dehydration activity of CeO2-MeOX catalysts," Applied Catalysis A: General, 602 (2020) 117722. (available online)
Martinelli, M., Karuturi, S.C., Garcia, R., Watson, C.D., Shafer, W.D., Cronauer, D.C., Kropf, A.J., Marshall, C.L., Jacobs, G., "Substitution of Co with Ni in Co/Al2O3 catalysts for Fischer-Tropsch synthesis," Catalysts, MDPI publisher, 10 (2020) 334, 28 pp. (available online) 
Ribeiro, M.C.; Gnanamani, M.K.; Garcia, R.; Jacobs, G.; Rabelo-Neto, R.C.; Noronha, F.B.; Gomes, I.F.; Davis, B.H., "Tailoring the product selectivity of Co/SiO2 Fischer-Tropsch synthesis catalysts by lanthanide doping," Catalysis Today 343 (2020) 80-90. (available online) 
Undergraduate Research – Spring 2020
"Effect of Potassium Loading on Pt/ZrO2 during Ethanol Steam Reforming in Hydrogen production" (Click to view poster)
This work is supported by the USDA National Institute of Food and Agriculture, Interdisciplinary Hands-on Research Traineeship and Extension Experiential Learning in Bioenergy/Natural Resources/Economics/Rural project, U-GREAT (Undergraduate Research, Education And Training) program (2016-67032-24984).

Gnanamani, M., Cronauer, D.C., Kropf, A.J., Marshall, C.L., Garcia, R., Jacobs, G., Martinelli, M., Shafer, W.D., "Vapor phase dehydration of 1,5-pentanediol over CeO2-based catalysts," ACS National Meeting & Expo, Aug. 21 – 25, San Diego, CA.
---
---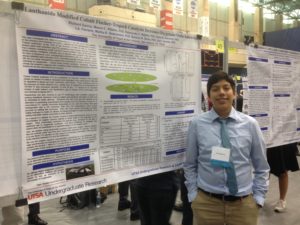 ---
Scholarship – Spring 2018
Richard received an undergraduate research scholarship from the College of Engineering.