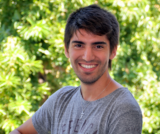 Nicolás Muzzio, PhD
Postdoctoral Research Fellow
Dr. Nicolás Eduardo Muzzio is a Postdoctoral Researcher from Argentina. He obtained his degree in Biochemistry in 2013 and his PhD in 2017, both from the National University of La Plata. During his PhD he studied cell adhesion, proliferation, migration and the growth of cell colonies.
He performed several research internships at the Center for Cooperative Research in Biomaterials (CIC biomaGUNE, San Sebastián, Spain) where he designed, synthesize and characterize different types of soft biomaterials to control cell fate. After a postdoc at the University of Buenos Aires, in which he developed biomaterials for mechanotransduction studies, he joined the Macromolecular Bio-Interfaces Lab (MBI lab) to conduct research in the area of soft biomedical materials for neural modulation under the direction of Dr. Gabriela Romero Uribe.
In his free time, Nicolás loves to walk, play video games, watch movies and series. He has also actively collaborated in Church as a catechist for several years.