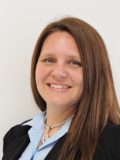 Tina Rodgers
PhD Candidate in Biomedical Engineering at UTSA and UTHSA
Tina Rodgers joined the MBI lab in the fall of 2017 as a M.S. student in the Biomedical Engineering program.  Her mentor and PI is Dr. Gabriela Romero Uribe.  Her project is focused on developing virus-mimetic coatings to understand transport processes in the brain vascularate.
In addition to her successful completion of the requirements for the B.S. in Biomedical Engineering at UTSA, Tina also completed an A.A. as well as an A.S. with a concentration in chemistry from Alamo Community Colleges.  Tina attended the principles and methods stem cell workshop at the FAES Graduate School at NIH through the Minority Faculty-Student Partnership Traineeship program.
When not tending to the lab or being in class, Tina's focus and passion is her family enjoying activities such as camping, hiking or Tina's all time favorite, putting her toes in the surf.