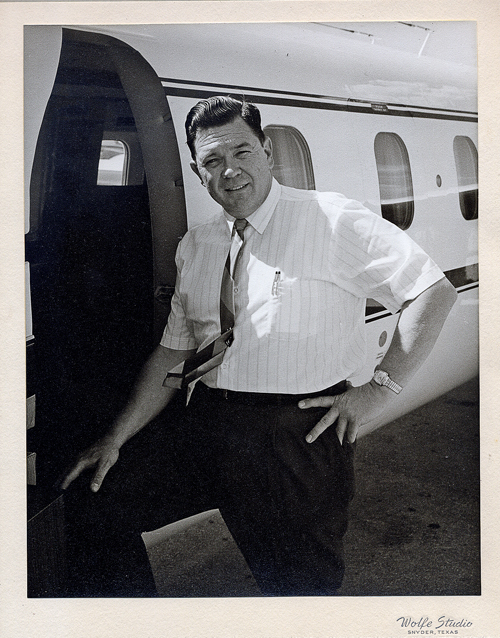 Paying Tribute to an Aviation Pioneer: Dee Howard Fellowship in Mechanical Engineering
Dee Howard is a legend of the aviation industry in San Antonio, Texas and is internationally recognized for his development and certification of numerous aircraft safety and performance improvements, and refinements in aircraft flight characteristics. Dee began his career in the early recovery years of the Great Depression as an automobile mechanic and later as an FAA licensed aircraft mechanic. In 1947, Dee founded his first company, Howard Aero, in a small one-room building on the ramp at San Antonio International Airport. By 1960, Howard Aero had grown to over 1,000 employees and was the largest manufacturing company in San Antonio at that time.
In 1964, Dee founded The Dee Howard Co. The company grew to over 1,500 employees and performed a wide range of aviation services and developed its own proprietary products including jet engine thrust reversers, aircraft re-engine programs, drag reduction programs, cargo door modifications, and interior completions for wide body head of state aircraft. Dee sold The Dee Howard Co. in 1990, but his entrepreneurial spirit did not slow down. Instead, Dee turned his innovative genius to his other passion, automotive products, and started another company to build and market his patented technology known as the Howard Power Center Steering System for heavy trucks, buses, and motor homes. When Dee passed away at age 88 in 2009, icons of aerospace and motor car racing fame honored him.
Today, Dee's legacy lives on at The University of Texas at San Antonio through an endowment established by his children, Dee Ann Bridges and Lonnie Dean Howard.  The permanent endowment in the Department of Mechanical Engineering will be used by the Dee Howard Faculty Fellow to advance research and scholarship in aerospace engineering as well as to support undergraduate and graduate students interested in the field.