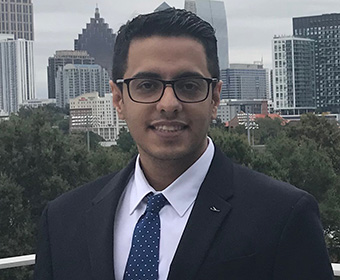 (Jan. 15, 2019) — Mohammadali Sharzehee is a doctoral student in the UTSA Department of Mechanical Engineering who studies cardiovascular mechanics and builds computer simulations to understand how blood vessels operate under adverse conditions that lead to cardiovascular diseases.
In 2017, Sharzehee moved from Iran to the United States and started his Ph.D. program at UTSA. He found quick success and a few months later published an analysis in the Journal of Computer Methods in Biomechanics and Biomedical Engineering of how arteries, the blood vessels that carry oxygen-rich blood from the heart, lose their resiliency and lead to aneurysms.
UTSA Today spoke to Sharzehee about his "tubular" work:
Why do you study a field that combines engineering but also the human body?
Cardiovascular biomechanics is a fast-growing field of engineering and improves the understanding, treatment and prevention of cardiovascular diseases. It also plays a crucial role in the development of the medical devices by applying mechanical engineering principles to cardiovascular system.
You focus on how arteries in our bodies twist into loops and spirals during negative conditions. Why do you want to study this field?
Vascular tortuosity or twists may result in an ischemic attack—a restriction in blood supply—to distal organs as well as other negative changes related to diseases. This research has an important impact on clinical work and, because of that, I became motivated to better understand the mechanisms of arteries.
What does your work intend to show?
My work aims to determine the biomechanical loads or conditions that trigger the occurrence of tortuous blood vessels using computational modeling. In addition, my results illustrate the effects of vessel dimensions, material models and properties, and mechanical loadings conditions on formation of tortuous vessels—curving, coiling, kinking and looping.
How is your research beneficial to people?
Our computational model can be applied to any tubular organ, including the esophagus and the stomach, and even vascular implants including grafts and stents. Considering the torsional and bending stability of blood vessels and vascular grafts, this is important for future designs of vascular implant and treatments in vascular disease.
How did you get into this type of research? Was there a turning point — an "a ha" moment?
Our research group, under the supervision of Dr. Hai-Chao Han, has conducted a number of artery buckling experiments. During those experiments, we observed tortuous vessels but the "how" or the mechanics of artery helical buckling remained unclear. Dr. Han explained the problem to me, and I decided solve the question with computational modeling. After one year of hard work, we have finally completed the work and submitted our manuscript to peer-reviewed journals.
Why did you choose UTSA?
I chose UTSA to work with Dr. Han, whose research piqued my interest. I believe that his guidance will pave the way for my future academic success.
What keeps you up at night?
Despite grueling and frustrating work, my enthusiasm for academic research to make scientific breakthroughs keeps me motivated during my Ph.D.
What's next?
Currently, I am working on another cardiovascular disease (myocardial bridge) in which a segment of the coronary artery is covered by a muscle bridge that can lead to transient vessel compression. I want to enhance the understanding and treatment of this disease to improve the quality of life for people.