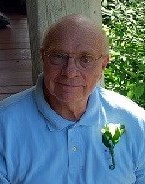 August 19, 2022 – The Margie and Bill Klesse College of Engineering and Integrated Design regrets to inform of the recent passing of John "Jack" Simonis. Simonis spent several years as a member of UTSA's Department of Mechanical Engineering. He passed away on August 11, 2022.
Simonis received his doctorate in Mechanical Engineering from Georgia Tech and was the consummate "Engineer's Engineer," with over 50 years of engineering experience in industry and academia. He is fondly remembered as one who would never back away from any engineering challenge and was still active with new engineering developments as an octogenarian.
"He passed along a story to me on how he decided to attend college and peruse engineering,' said James "Jim" Johnson, associate professor of instruction in the Department of Mechanical Engineering. "When Jack was young, he worked with his dad in their truck sales and repair business in Marion, Ohio, and that was of course where he learned a lot about practical engineering. On one very cold snowy morning, his dad sent out with blow torch in hand to get underneath an 18-wheeler to thaw out the breaks. While lying in the ice and snow, he said, 'that's it, I'm going to school and get an engineering job.'"
"Jack always put family first and was a caring person and maintained great balance among life's challenges," continued Johnson. "Jack would always reach and help those in need and was a great mentor.
In his early career, Simonis worked in the nuclear industry and of particular note, he was instrumental in investigating the Three-Mile Island nuclear power incident and reported to the NRC on its causes and recommended remedies. His next stop was Southwest Research Institute (SwRI) in San Antonio where he eventually retired after 25 years at the highest level of engineering rank know as Institute Engineer. Simonis directed projects funded by nearly all government sectors and numerous commercial sectors. He published numerous papers and holds several patents.
Next stop was academia post retirement from SwRI, although he was an adjunct professor while working at SwRI. He taught numerous engineering courses and oversaw the mechanical engineering senior design program. Simonis brought an enormous amount of practical engineering experiences to senior design and was instrumental in providing significant guidance and support to the ABET accreditation process for UTSA mechanical engineering. Many engineers that graduated under his guidance have seen success.
Simonis was an avid sailor and spent many hours sailing his 33 foot Out Island boat on Canyon Lake, Texas and in the Texas coastal waters. He enjoyed taking friends and family on day cruises and overnight or days long trips.
Memorial Services will be held at Sunset Northwest Funeral Home 6321 Bandera Road, San Antonio, TX on Sunday August 21, 2022 at 2pm.
In lieu of flowers, the family asks that donations are made on Simonis's behalf to: https://giving.utsa.edu/givenow and selecting the Klesse College of Engineering and Integrated Design.