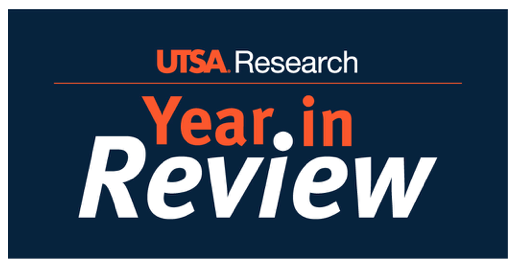 In fiscal year 2016-2017, UTSA grew its institutional research portfolio, engaged more students, and built partnerships with industry and government to expand funded research. As a result, the 2017 fiscal year final research numbers have been the highest to date in UTSA's history.
Total research expenditures increased from US $56.8 million in FY 2016 to US $68.1 million in FY 2017, an uptick of 19.9 percent. The university's restricted research expenditures grew from US $36.4 million in FY 2016 to US $40.1 million in FY 2017. This growth will help UTSA move closer toward becoming recognized as a research intensive (R1) university, as measured by the Carnegie Foundation for the Advancement of Teaching, and meeting eligibility for Texas' National Research University Fund (NRUF).
UTSA researchers received substantial federal grants in many fields including cybersecurity – establishing the CREST Center for Security and Privacy Enhanced Cloud Computing (C-SPECC) – brain health, mechanical engineering, chemistry, drug discovery, neuroscience, infectious diseases and student success initiatives. In total, 361 new awards were given in FY 2016-2017, worth $75.8 million. Two new research centers were created: the Autism Research Center (ARC), dedicated to autism analysis, assessment and treatment and, more recently, the Center for Community Based and Applied Health Research.
"The research enterprise at UTSA has grown tremendously due to the collaborative nature of our colleges, our deans and our associate deans of research. They work together to support our faculty in growing their research portfolios, and engage more faculty and students in research activities," said Bernard Arulanandam, UTSA interim vice president for research.
The university's federal partnerships significantly strengthened with the opening of the Army Research Laboratory (ARL) Cyber South office at UTSA. With funding from the San Antonio Life Sciences Institute (SALSI), military health research and training were supported by UTSA and UT Health – San Antonio, working with the San Antonio Military Health System (SAMHS) and the Uniformed Services University Health Sciences Center (USUHSC). That research resulted in collaborative seed programs, extramural grant applications/awards, conferences and joint professional development opportunities. With 179 abstracts submitted, 65 podium presentations and 125 poster presentations, the fourth annual SURF conference brought more than 500 researchers from the region to the UTSA campus to share research and build new partnerships.
Facilitated by a strategic alliance of the university's deans, Provost and the Office of the Vice President for Research, UTSA recruited faculty members who are nationally recognized in key research areas of cybersecurity and brain health, including the new Semmes Foundation Chair in Cell Biology. The UTSA Academy of Distinguished Researchers also added two new members – Drs. Anson Joo Ong and Jose Lopez-Ribot – this past year, bringing the total number to 15 faculty researchers, and launched an annual lecture.
The Office of Research Support (ORS) continued to deliver a robust slate of research support and faculty development activities. In collaboration with UTSA Teaching and Learning Services, The New Faculty Institute was launched to provide new faculty introduction to UTSA's teaching and research culture, share institutional resources and best practices and promote collaboration. In FY17, ORS gave 46 research awards totaling $712,392 to support research on campus. As of December 1, 2017, UTSA institutional seed grants are open for application and UTSA faculty members are encouraged to apply. At the annual Undergraduate Research and Creative Inquiry Showcase, over 500 attended with 138 students presenting, and 31 posters being recognized as "Best in Show". The first volume of the Journal of Undergraduate Research and Scholarly Works (JURSW) was published.
The Office of Commercialization and Innovation (OCI), continued to expand UTSA's commercialization programs, build partnerships with industry and the grow the innovation ecosystem. The number of NSF Innovation Corps (I-Corps) teams participating at the national level doubled over the previous two years combined, with six teams advancing to further refine their business models for their new technologies, putting UTSA in the top 6 percent of participating institutions. In FY 17, OCI received 62 new technology disclosures, a 17 percent increase in disclosures from the previous year. UTSA mechanical engineer Bing Dong was named the 2017 UTSA Innovator of the Year, in recognition of his drive to develop and launch the startup Leaptran in order to provide a way to make buildings more energy efficient and responsive to their occupants. An additional 29 other UTSA researchers were recognized for their patents, licenses and I-Corps participation. Electrical engineer David Akopian was UTSA's latest inductee to the National Academy of Inventors (2016). He joins UTSA President Taylor Eighmy (2013) and Interim Provost/Vice President for Academic Affairs C. Mauli Agrawal (2015).
Working with the Office of International Programs, the UTSA Office of the Vice President for Research is expanding research opportunities for faculty and students through strategic connections with key international institutions. In November 2017, UTSA and Monterrey Institute of Technology and Higher Education (ITESM) signed a Memorandum of Understanding (MOU) to establish collaboration activities and facilitate long-term academic and economic cooperation between both institutions. In October 2017, UTSA signed a MOU with Technical University-Darmstadt in Germany, a key component of a greater cultural mission between the City of San Antonio and the City of Darmstadt to build cultural and educational bridges through a sister cities agreement.