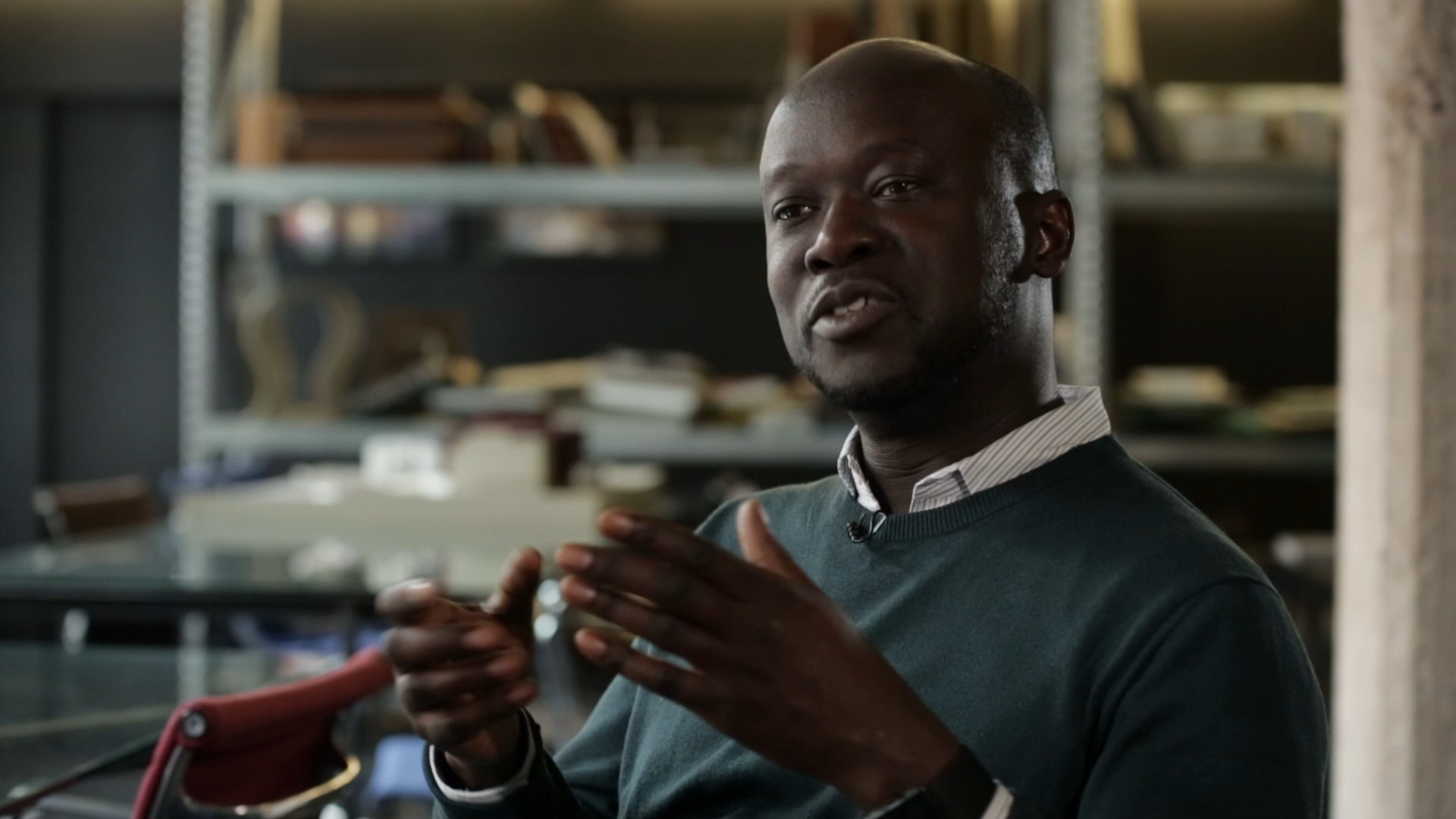 Studio | 111 Camp Street, San Antonio, TX 78204
Second Wednesdays 6:00 to 8:30 pm | June through December 2018
Free & Open to the Public— RSVP required events@rubycity.org
(June 19, 2018) — Ruby City and the UTSA College of Architecture, Construction and Planning present the screening of two documentaries focusing on the work of world-renowned architect David Adjaye. Screenings of David Adjaye – Collaborations (50 min) and This Building Will Sing for All of Us (30 min) take place at Studio (111 Camp Street) the second Wednesday of every month from 6:00 to 8:30pm. These films are not available to the public, offering a rare opportunity to learn more about this important architect, his creative process and work. The documentaries will be presented consecutively with a 10-minute intermission.
David Adjaye – Collaborations is a feature length documentary on the work of British-Ghanaian architect David Adjaye. The film features interviews with Adjaye´s collaborators, a roster of influential figures in the art and cultural world as well as a significant number of his architectural projects, including public buildings, residential houses, artist studios and exhibition spaces globally situated and developed over the past 15 years. The collaborators – artists, curators and writers, most of them interviewed 'on site' – give creative insights into Adjaye's buildings, while offering a highly personal perspective on their particular collaboration.
In This Building Will Sing for All of Us Oliver Hardt explores Adjaye's design for the National Museum of African American History and Culture in Washington D.C. The film focuses on the question of how Adjaye deals with the challenge of building one of the most important buildings in African American history. What role does "African" play in the idea of "African American?" And in what form are historical, social and aesthetic considerations manifested in his design for the museum?
Refreshments for guests will be served.
—————————
About Sir David Adjaye OBE
Sir David Adjaye is recognized as a leading architect of his generation. Born in Tanzania to Ghanian parents, his broadly ranging influences, ingenious use of materials and sculptural ability have established him as an architect with an artist's sensibility and vision. He founded Adjaye Associates in 2000, and immediately won several prestigious commissions including the Nobel Peace Centre in Oslo (2005) and the Idea Stores in London (2005), which were credited with pioneering a new approach to the provision of information services. His largest project to date, the $540 million Smithsonian Institute National Museum of African American History and Culture, opened on the National Mall in Washington DC in fall of 2016 and was named Cultural Event of the Year by the New York Times.
About Oliver Hardt
Oliver Hardt is a director and filmmaker based in Frankfurt am Main. His portfolio consists of award-winning documentaries and high-profile corporate films for international clients such as Mercedes Benz, the German Design Council, Lufthansa and the Art Institute of Chicago.
In his documentaries, Oliver frequently addresses black culture and black history, a topic inspired by his own biography. Additionally, he focuses on architecture, design, music and contemporary art. His internationally acclaimed documentary films include The United States of Hoodoo, a road trip to the spiritual sources of African-American culture; This Building Will Sing for All of Us, about the design of the National Museum of African American History and Culture in Washington D.C.; and David Adjaye – Collaborations, an intimate portrait of the Ghanaian-British architect through the eyes of his friends, collaborators, and clients.
About Ruby City
Ruby City is a 14,472 sq ft contemporary art center in San Antonio, TX, dedicated to providing a space for the city's thriving creative community to experience works by both local and internationally-acclaimed artists. Envisioned in 2007 by the late collector, philanthropist and artist Linda Pace, Ruby City presents works from Pace's own collection of more than 800 paintings, sculptures, installations and video works. The new building, designed by renowned architect Sir David Adjaye and slated for completion later this year is part of a growing campus, which also includes Chris Park, a one-acre public green space named in memory of Pace's son, and Studio, an auxiliary exhibition space which presents curated shows and programming throughout the year. Ruby City is free and open to the public.
About Linda Pace Foundation
Linda Pace Foundation was founded in 2003 as the owner and steward of Pace's collection. Guided by its donor's conviction that contemporary art is essential to a dynamic society, Linda Pace Foundation fosters the creation, presentation and understanding of innovative expression through contemporary art. In addition to its exhibition spaces Ruby City and Studio, Linda Pace Foundation shares its collection through loans to museums and institutions around the world. The Foundation also actively acquires new works each year, which, echoing the themes and character of Pace's own collecting, reflect a feminist perspective, engage social issues and consider aspects of spirituality and beauty.
Content retrieved from: http://cacp.utsa.edu/news/ruby-city-sir-david-adjaye-documentary-series.