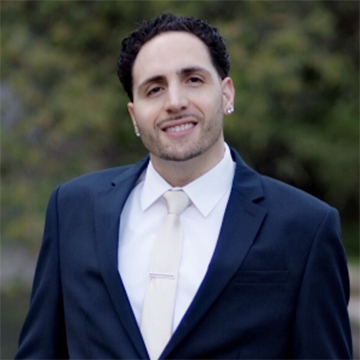 Anthony Liccione is a Business Service Center Associate II in the College of Engineering's Business Service Center.
Please tell us about yourself.
My name is Anthony Liccione, and I was born and raised in the State of New York. In 2003, I had an opportunity to pursue furthering my education and career, and that led me out west to the San Francisco, California metro area. I resided there for nearly 6 years before making the decision to relocate down to San Antonio. Upon my arrival in 2010, I acquired a management position which oversaw a large and highly professional staff within a well-known Texas-based law firm. That opportunity would eventually lead me to Austin due to an internal promotion that greatly expanded my responsibilities to cover both the San Antonio and Austin offices. It would not be until 2018 that my wife and I would make the final decision to call San Antonio our permanent home. For nearly 9 months I have been fortunate to be a part of our wonderful and growing University specifically within an amazing group called the Business Service Center.
Outside of UTSA, I am an avid sports fan who has remained loyal to his teams regardless of poor play over the years. In addition, my wife and I enjoy cooking homemade and traditional Italian and Mexican cuisines, travelling both domestically and internationally whenever possible, and spending quality time with our niece and two nephews.
What is your job title and what do you do?
My current position is Business Service Center Associate II, and I specialize in supporting the faculty in the College of Engineering with their budgetary and account reconciliation processes. In addition, I further support the faculty and staff by aiding in the areas of human resources, procurement requests, and travel.
What is the best thing about your job?
One of the wonderful aspects about my career within the Business Service Center is that I sincerely enjoy helping faculty see their research activities reach fruition while further developing and building personal relationships with them. In my short time at UTSA, I have had the opportunity to meet some wonderful and inspiring individuals who strive for excellence every day.
What are three words that best describe you?
I would best describe myself as a trustworthy, hardworking, and accomplished professional.
What inspires you?
I gain inspiration through my dreams and aspirations to become a well-rounded financial professional who will impact the lives of others in a positive and meaningful way. Another source of continued inspiration for me comes from my close friends and family. Over the years, my passion and drive has been a direct result of their continued love and support while I continue to strive toward achieving my dreams and aspirations.
What are your top three life highlights?
As difficult as it to pinpoint only three, my top life highlight would have to include the day that I married my best friend and now wife Amanda. She has been a blessing for me and I am truly grateful to have her in my life. A second life highlight would have to be the day that I earned the MVP award in a New York State-wide basketball tournament. Lastly, a third life highlight was having the opportunity to make a once in a lifetime cruise trip to multiple countries throughout the Mediterranean Sea this past spring.
Who has influenced you the most in life?
A major influence throughout my life has been that of my parents and family. They have been a source of inspiration for me through their continued love, sacrifice, and guidance. I owe a great deal of my success to them and I am very grateful and fortunate.
What is your favorite game?
Since I was young, I have always kept the game of basketball near and dear to my heart. To this day, I participate in many recreational basketball leagues and I hope that, in the future, I will also be fortunate enough to coach a youth basketball team here in San Antonio.
What would you do if you won the lottery?
If I were to win the lottery today, I would fulfill a long-time dream to purchase property in the southern Italian region of Campania, where my father's family originates. I would also like to travel to many other countries around the world that I have yet to explore.
Fill in the blank: I once met…
Mohammad Ali. My father was a boxing promoter and President of The Rochester Boxing Hall of Fame for many years and worked closely with Ali's team to honor him with the distinguished lifetime achievement award.