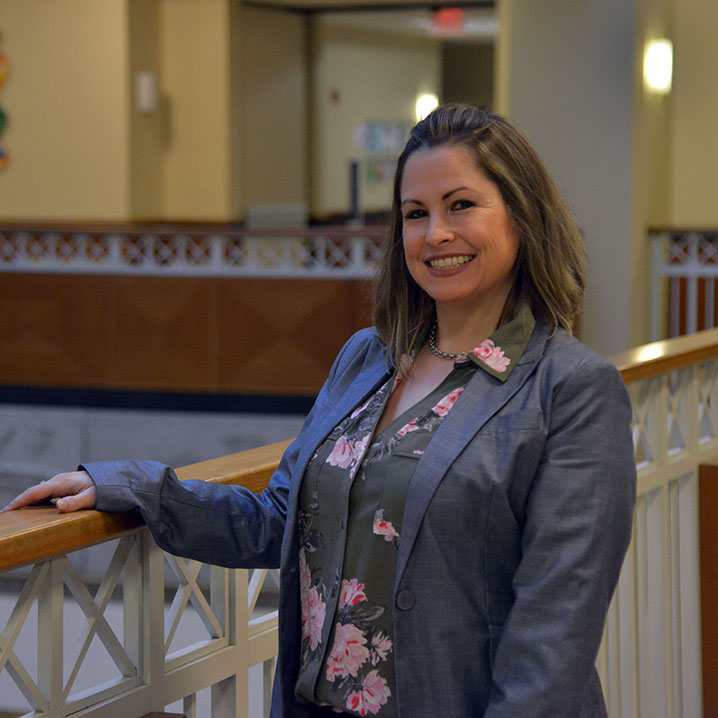 Jennifer McDaniel is the Assistant Director of Recruitment in the College of Engineering's Student Success Center.
Please tell us about yourself.
I have been with UTSA for a total of seven years and completed my first year with the College of Engineering this May. Prior to my time with the COE, I worked for the Admissions Office as a Senior Admission Counselor. While at UTSA, I have completed my graduate degree in Counseling and have taken several courses toward my Ph.D. in Educational Leadership and Policy Studies. I am currently taking a hiatus and am hopeful to reapply to the program again in the future.
Outside of the office, I have two daughters who are 2 and 7 years old. We are always on the go, looking for new things to do or places to visit. We especially enjoy day and weekend trips. Most recently, we visited Son's Island on Lake Placid and had a great time kayaking and relaxing. I also enjoy working out, cooking in my new Instant Pot, thrift store shopping, and collecting and wearing jewelry.
What is your job title and what do you do?
I am the Assistant Director of Recruitment for the College of Engineering. In my role, I strategically identify target areas of recruitment for the College and work to build strong relationships within those key areas, all while attracting highly qualified applicants to apply and enroll. I also work with our wonderful COE Ambassadors and summer camp programming.
What is the best thing about your job?
Being what I consider to be the College's ultimate fan and sharing that enthusiasm with others, I truly enjoy meeting so many amazing students and their families. I also enjoy learning about engineering and seeing all of the awesome projects our students are working on. One of my favorite projects this year was watching an electric car that our Ambassadors helped local high school students assemble race at a competition.
What is your favorite thing about the College of Engineering?
Didn't have to think at all about this one – our students, faculty, and staff.
What is your proudest moment with the COE?
There is nothing better than to see the students I have been working with all year attend summer orientation and watching them as they become engaged and active within the College. It's exciting!
Who was your most important mentor and why?
I have been impacted by so many great people, but if I had to choose one person, it would be one of my undergraduate professors who not only challenged me beyond what I thought I was capable, but also fostered my analytical thinking skills and love for learning.
How do you define success?
I define success as the relationships we build, lessons learned, and lives we impact during our lifetime.
If you could travel anywhere, where would you go?
I visited London when I was in college and would love to take my family there someday to see famous places like Big Ben, the London Eye, and Buckingham Palace. We would also make a trip to Kings Cross Station for photos as my kiddos have recently taken an interest in Harry Potter and anyone who has seen the first movie knows this is where you catch the train to Hogwarts.
Describe what you were like at age 10.
This would have been 1990 something (not going to completely age myself) … I was probably playing Nintendo and jamming to NKOTB!
Any random facts that you'd like to share about yourself?
I'm into watching Stranger Things. Can't wait for the new season!