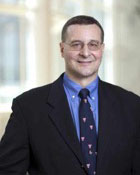 Professor
Department of Biomedical Engineering
Educational Background:
S., M.S., Chemical Engineering, Lehigh University, Bethlehem, PA
D., Medicine, Georgetown University, Washington, DC
D., Chemical Engineering, Massachusetts Institute of Technology, Cambridge, MA
Fellowship, Spine Surgery & Biomechanics, Harvard Medical School, Boston, MA
Areas of Teaching Interest:
Clinical Orthopedics
Tissue Engineering
Spine Surgery
Polymer Chemistry
Areas of Research Interest:
Synthesis and characterization of degradable polymers
Translational musculoskeletal research
Metastatic spine tumors
Bone tissue engineering
Nerve and spinal cord regeneration
Description of Research:
Dr. Michael J. Yaszemski is the Krehbiel Family Endowed Professor of Orthopedic Surgery and Biomedical Engineering at the Mayo Clinic and director of its Polymeric Biomaterials and Tissue Engineering Laboratory. He is a retired U.S. Air Force Brigadier General and served in the office of the Air Force Surgeon General and the office of the President of the Uniformed Services University of the Health Sciences prior to retiring in 2013. He is a member of The National Academy of Medicine and The National Academy of Inventors.  His clinical practice encompasses spine surgery and musculoskeletal oncology.
His research interests are in the synthesis and characterization of novel degradable polymers for use in bone regeneration, cartilage regeneration, nervous tissue regeneration, and controlled delivery of chemotherapeutic agents to musculoskeletal tumors. In specific, on-going projects focus on developing novel minimally invasive methods for the prediction of fracture risk in metastatic spine tumors, nerve guidance conduit development, novel biomaterials for musculoskeletal use, and bone tissue engineering.
Selected Publications
Becker J, Lu L, Runge MB, Zeng H, Yaszemski MJ, Dadsetan M. Nanocomposite bone scaffolds based on biodegradable polymers and hydroxyapatite. Journal of Biomedical Materials Research Part A. 2015 Aug;103(8):2549-57.
Dadsetan M, Guda T, Runge MB, Mijares D, LeGeros RZ, LeGeros JP, Silliman DT, Lu L, Wenke JC, Baer PR, Yaszemski MJ. Effect of calcium phosphate coating and rhBMP-2 on bone regeneration in rabbit calvaria using poly (propylene fumarate) scaffolds. Acta biomaterialia. 2015 May 1;18:9-20.
Gustafson CT, Boakye-Agyeman F, Brinkman CL, Reid JM, Patel R, Bajzer Z, Dadsetan M, Yaszemski MJ. Controlled delivery of vancomycin via charged hydrogels. PloS one. 2016 Jan 13;11(1):e0146401.
Olthof MG, Kempen DH, Herrick JL, Yaszemski MJ, Dhert WJ, Lu L. Effect of different sustained bone morphogenetic protein‐2 release kinetics on bone formation in poly (propylene fumarate) scaffolds. Journal of Biomedical Materials Research Part B: Applied Biomaterials. 2018 Feb;106(2):477-87.
Fang Z, Giambini H, Zeng H, Camp JJ, Dadsetan M, Robb RA, An KN, Yaszemski MJ, Lu L. Biomechanical evaluation of an injectable and biodegradable copolymer P (PF-co-CL) in a cadaveric vertebral body defect model. Tissue Engineering Part A. 2014 Jan 10;20(5-6):1096-102.
Hakim JS, Esmaeili Rad M, Grahn PJ, Chen BK, Knight AM, Schmeichel AM, Isaq NA, Dadsetan M, Yaszemski MJ, Windebank AJ. Positively charged oligo [poly (ethylene glycol) fumarate] scaffold implantation results in a permissive lesion environment after spinal cord injury in rat. Tissue Engineering Part A. 2015 Jun 15;21(13-14):2099-114.
Chen BK, Madigan NN, Hakim JS, Dadsetan M, McMahon SS, Yaszemski MJ, Windebank AJ. GDNF Schwann cells in hydrogel scaffolds promote regional axon regeneration, remyelination and functional improvement after spinal cord transection in rats. Journal of tissue engineering and regenerative medicine. 2018 Jan;12(1):e398-407.
Van der Deen M, Taipaleenmäki H, Zhang Y, Teplyuk NM, Gupta A, Cinghu S, Shogren K, Maran A, Yaszemski MJ, Ling L, Cool SM. MicroRNA-34c inversely couples the biological functions of the runt-related transcription factor RUNX2 and the tumor suppressor p53 in osteosarcoma. Journal of Biological Chemistry. 2013 Jul 19;288(29):21307-19.
Reumann S, Shogren KL, Yaszemski MJ, Maran A. Inhibition of Autophagy Increases 2‐Methoxyestradiol‐Induced Cytotoxicity in SW1353 Chondrosarcoma Cells. Journal of cellular biochemistry. 2016 Mar;117(3):751-9.
Maran A, Shogren KL, Benedikt M, Sarkar G, Turner RT, Yaszemski MJ. 2‐methoxyestradiol‐induced cell death in osteosarcoma cells is preceded by cell cycle arrest. Journal of cellular biochemistry. 2008 Aug 1;104(5):1937-45.
Angius D, Wang H, Spinner RJ, Gutierrez-Cotto Y, Yaszemski MJ, Windebank AJ. A systematic review of animal models used to study nerve regeneration in tissue-engineered scaffolds. Biomaterials. 2012 Nov 1;33(32):8034-9.