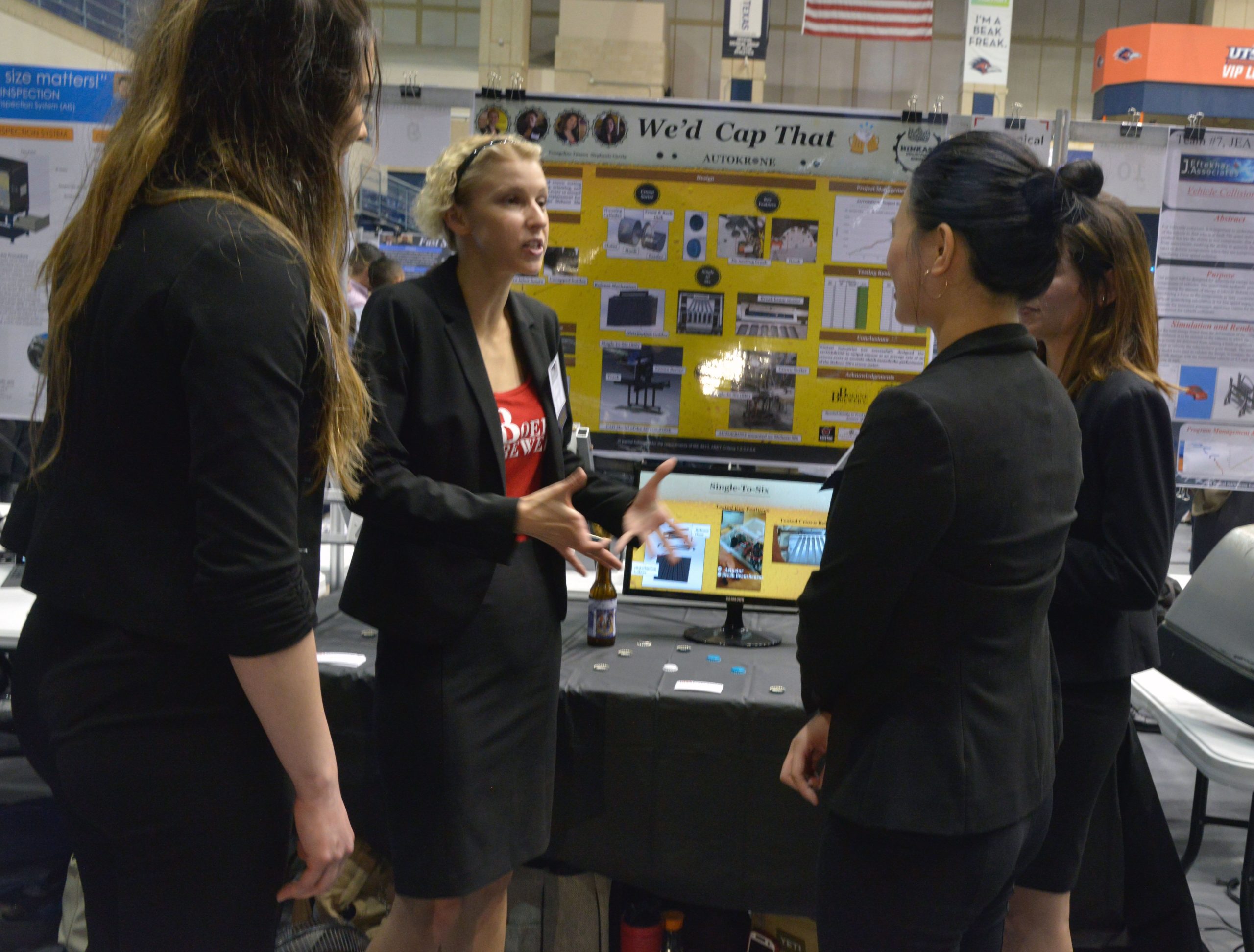 The Spring 2021 College of Engineering Tech Symposium took place on Friday, April 30, 2021. 50 teams of up to four students took the opportunity to showcase their senior design projects in fields including Biomedical Engineering, Chemical Engineering, Civil & Environmental Engineering, Electrical & Computer Engineering and Mechanical Engineering.
Teams took turns presenting their projects to judging panels comprised of UTSA Engineering Faculty, Alumni and Industry Community Partners. Wider UTSA community members and the general public were invited to meet with team members and have their questions answered.
Three teams were awarded placings in each of the competitive segments, with the first placed team in each group receiving a cash prize. The placed award recipients include:
Biomedical Engineering
1st Place – Tranquility Therapeutics
2nd Place – RE-EN Biotech
3rd Place – JAKLD Unlimited
Civil  and Environmental Engineering
1st Place – Mission City Engineering
2nd Place – Integrity Engineers
3rd Place – INTECH-Redesign of Compass Rose
Electrical and Computer Engineering
1st Place – The Only One-The Best Fighter
2nd Place – Falcons Vendor
3rd Place – Taqueria Electrica
Mechanical Engineering
1st Place – UTSA Problem Solvers-Small Bore Vibration Damper
2nd Place – Team JACS UV-C Sanitation Station
3rd Place – The REAPERS – Needle End Effector Device
"Today's Tech Symposium was fantastic," remarked Dr. JoAnn Browning, Dean of the College of Engineering. "The creativity and resourcefulness of our students was remarkable to see. The Tech Symposium serves a dual purpose in allowing us to celebrate our students' achievements and to help them develop important experience pitching their concepts to established industry professionals."
"I'm very proud of our students who worked tirelessly to present some truly impressive projects today." said Jill Ford, Assistant Dean of Student Success. "I would also like to extend my thanks to our alumni and industry partners who volunteered as judges and helped to make the Tech Symposium such a great event."
The next UTSA College of Engineering Tech Symposium will be held in the fall semester. Be sure to check back later for additional information.