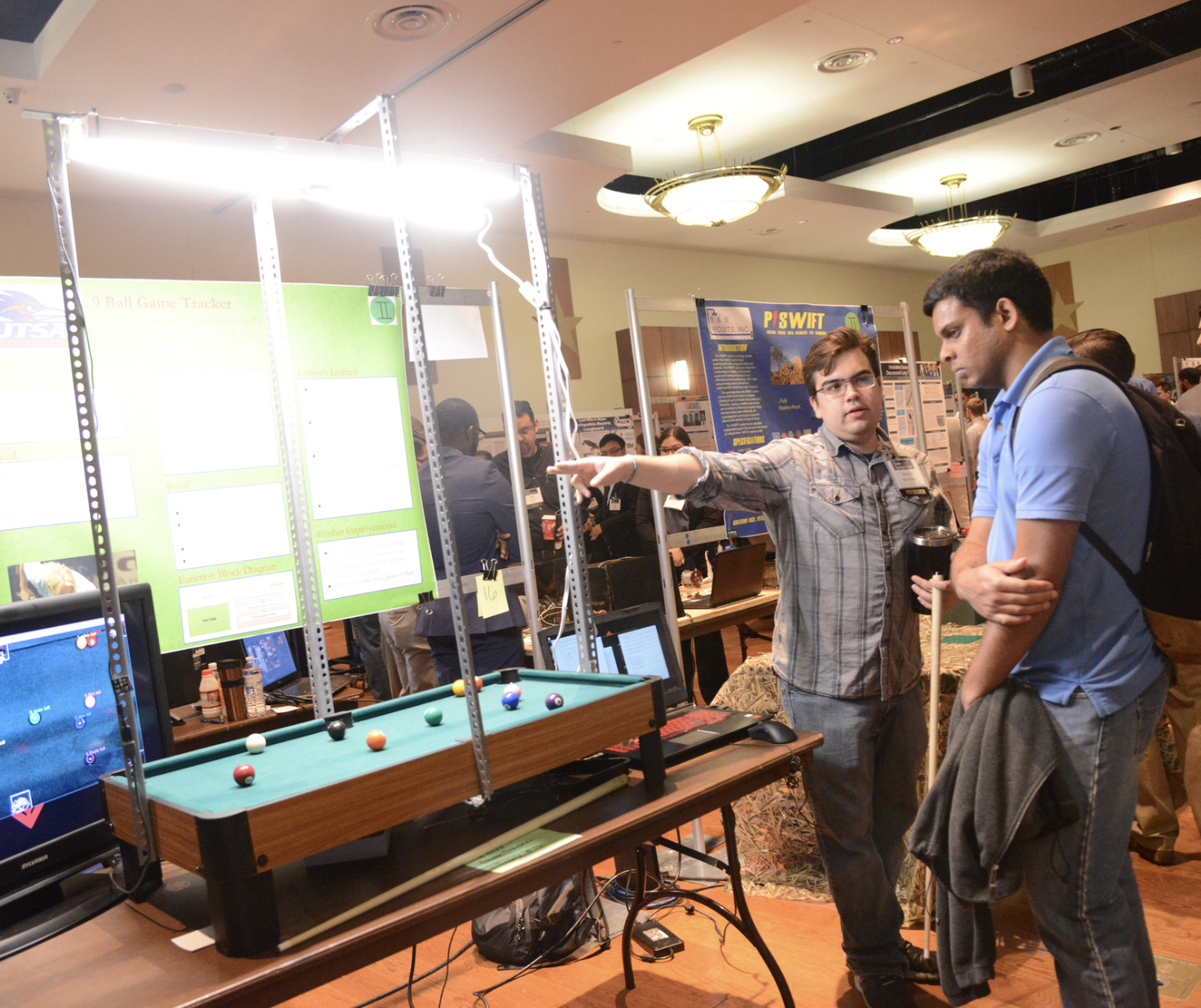 Over 30 student teams competed at the Fall 2017 Tech Symposium held on November 28 in the HEB University Center Ballroom. Students showcased their Senior Design 1 and 2 projects and research that they have been working on throughout their senior year. This is the second year that the Tech Symposium occured in the fall semester, giving students graduating in December a chance to show off their projects and ideas. Below are the winners from the event.

SENIOR DESIGN II OVERALL WINNERS
• 1st Place, $4,000: Tool X-Roofing Clip Forming Machine, a machine designed to automate the production of roofing clips required for sheet metal roofs. Team: Cory Monroe, Trent Marshall Hejazi, Joshua Parkman, Kristian Bounds.
• 2nd Place, $3,000: Nullam Ratio-UTSA Football Stadium. Nullam Ratio has developed a design for a football stadium for UTSA. This includes traffic analysis, a flood study, structural analysis, geotechnical analysis and environmental analysis. The stadium is to be located at UTSA's Park West site, at 8000 N. Loop 1604 West. Team: Angela Rivera, Jose A. Hernandez, Darcy Stephens, Fernando Royo, Abdulah Alissa, Denise Pyles.
• 3rd Place, $2,000: Team RS-Robotic Suitcase, a suitcase that will follow behind a user hands-free. Team: Jonathan Neville, Andrew Frantzen, Bernardo Guerrero Garcia, Michael Hughes. 
CITE's BIG ROWDY IDEA WINNERS
• 1st Place, $5,000 + $5,000 Investment: DNJ Solutions, a device to assist firefighters when operating a firehose. Team: Nathaniel Mayberry, John Warden, Jaspreet Sidhu, and Daniel Willis.
• 2nd Place, $1,500: Vertipro, a mobile app for vestibular rehabilitation therapy via augmented reality. Team: Delano Covarrubias, Hayden Rosas, Jorge Pena, Austin Somlo, Alexander Lewis, and Alexander Paul.
• 3rd Place, $1,000: Clutche Tech Ltd, a mobile app for food delivery in stadiums and arenas. Team: Nicholas Ramos, Brett Davidoff, Kendall Nowlin, and Matthew Mussenden. 
DEPARTMENT AWARDS
  Civil Engineering
1st-Nullam Ratio-UTSA Football Stadium
2nd-JAME Star Engineering
3rd-Bix Six Engineering-McFarland Elementary
Electrical and Computer Engineering
1st-Virtual Reality Drone Control
2nd-Smart Drop-Automated Shower
3rd-Intelligent Irrigation
Mechanical Engineering
1st-Zero Elevation-Pneumatic Trailer
2nd-Promethius-Autonomous Golf Ball Picker
3rd-Dynorunners-Formula SAE Dynamometer 
SENIOR DESIGN I POSTER OVERALL WINNERS
• The Avo-Queros – Avacado Cutter
• Schemata – Schemata Rover
• MJMT Engineering – Buffrs

Click here to see more photos from the event.