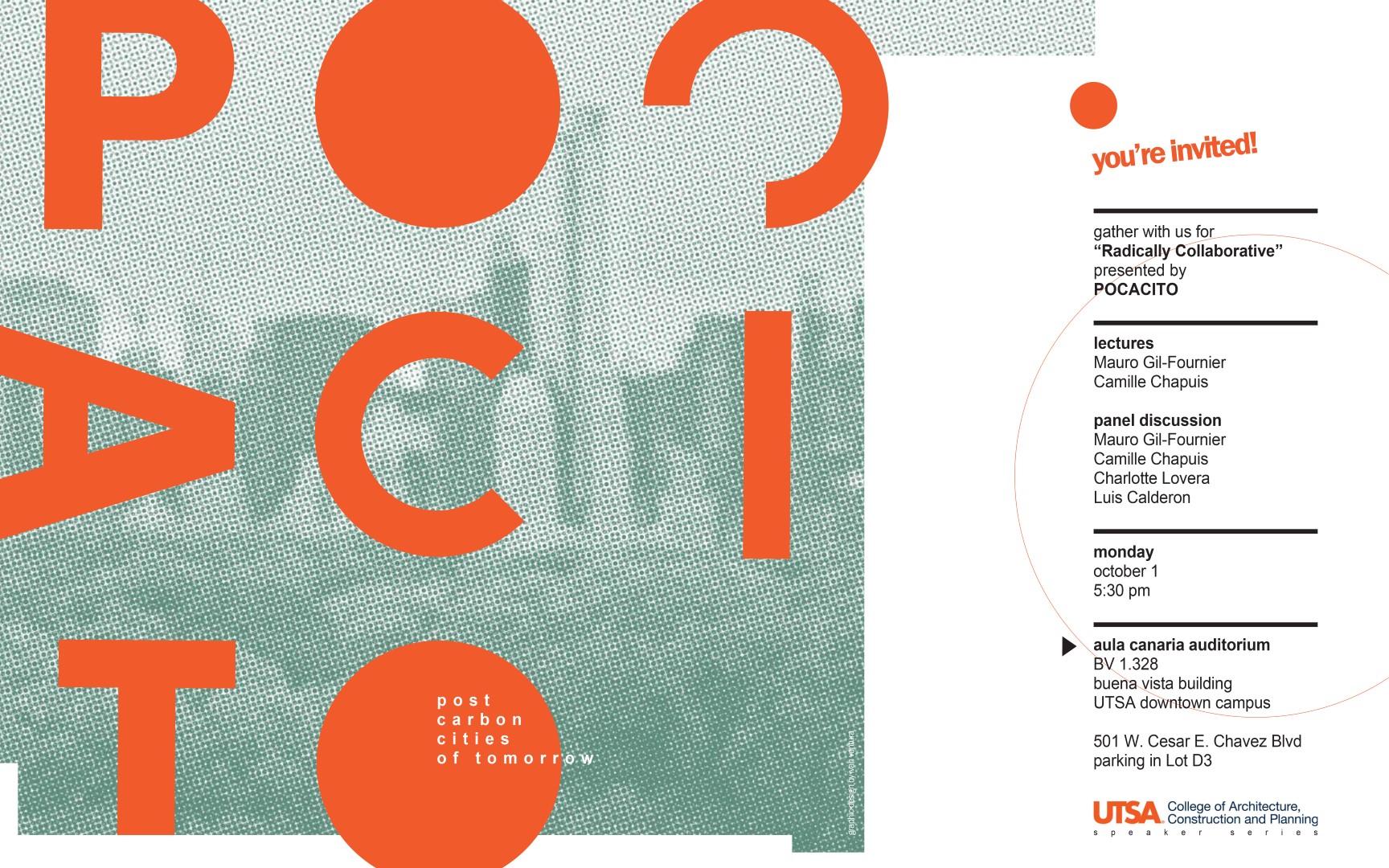 The UTSA College of Architecture, Construction and Planning's (CACP) 2018-2019 Speaker Series begins with "Radically Collaborative," a lecture and panel discussion by Post-Carbon Cities of Tomorrow (POCACITO) on the evolving concept of collaboration and the ways in which societies and economies are redefining engagement and interaction with space, materials, people, and knowledge. The event is free and open to the public and will take place at 5:30pm on Monday, October 1 in the Buena Vista Street Building's Aula Canaria (BV 1.328) on the UTSA Downtown Campus with refreshments at 5pm. The lecture and panel hosted by UTSA CACP is part of the POCACITO event series taking place in San Antonio over three days, focusing on the potential of transatlantic exchange to inspire and inform the transition to a more inclusive, accessible, and sustainable future.
Join our Facebook event.
Full schedule of San Antonio events here.
In the October 1 event Mauro Gil-Fournier, architect and co-director of Vivero de Iniciativas Ciudadanes in Madrid, will present his concept of linking the relational, material, and technological in citizen innovation practices, while Camille Chapuis of the international collaboration community Ouishare in Marseille will share her vision of social entrepreneurship in the digital global marketplace. They will be joined by Luis Calderon of Madrid's repurposed community cultural center La Tabacalera de Lavapies and Charlotte Lovera, architect and co-founder of the award-winning Atelier Aïno in Marseille, for a panel discussion addressing the question: Is the circular economy inherently local?
POCACITO is an initiative of Ecologic Institute in Washington, DC, and funded in large part by the Delegation of the European Union to the United States' Getting to Know Europe program. The project invites innovators and experts from EU cities to help lead interactive workshops and discussions in select US cities to promote efforts in urban sustainability and the circular economy. POCACITO redefines the urban sustainable development process by engaging diverse perspectives in the conversations about local issues and reimagining international cooperation. The resulting transatlantic relationships serve to affirm the potential of cities and citizens to lead the global sustainability movement.
The UTSA College of Architecture, Construction and Planning Speaker Series brings built environment professionals from around the world to UTSA to share their expertise on a variety of topics with the local community. For this event, free parking is available in UTSA parking lot D-3 under I-35, unmarked spaces only. UTSA Downtown Campus Map found here. For more information, contact Nicole Chavez at nicole.chavez@utsa.edu or 210.458.3121.

Content retrieved from: http://cacp.utsa.edu/news/utsa-cacp-2018-19-speaker-series-begins-oct-1-with-lecture-panel-pocacito.