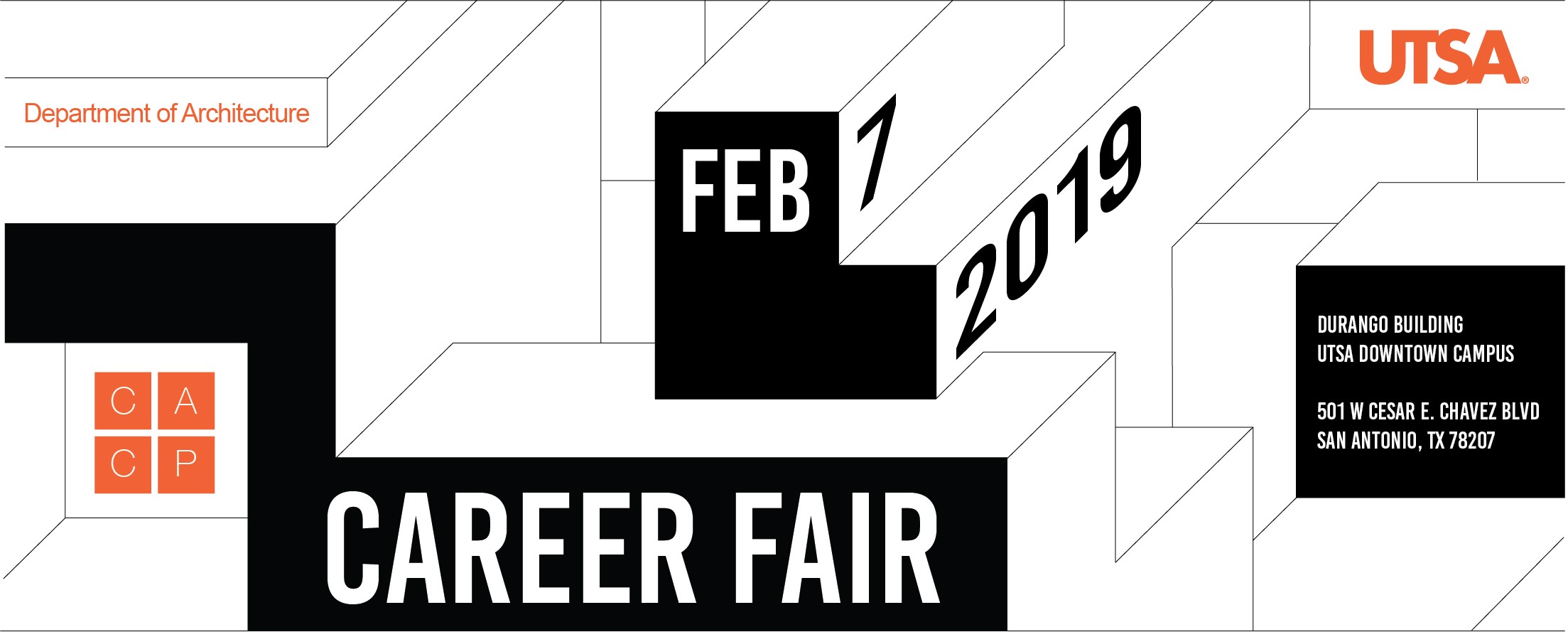 (January 15, 2019) — On Thursday February 7, 2019, beginning at 9:00 a.m. and running until 5:00 p.m., the UTSA Department of Architecture will be hosting an employee recruitment fair for design firms, companies, governmental agencies, and non-profit organizations in order for such entities to introduce themselves to impending graduates regarding career opportunities that may exist within their offices. We are therefore inviting you to consider reserving a Career Fair table in order to have the chance to visit with aspiring students that will be prepared to represent the wide range of maturing talents and capabilities they possess.
Potential employers wishing to be part of the Career Fair should complete the application form at this registration link by the February 1 registration deadline.
As the construction industry continues to expand in light of the current U.S. economy's strength, this event is being staged to demonstrate the important roles that UTSA architecture, interior design, and planning graduates might serve in area firms, businesses, and local governments.
While the majority of students expected to participate in this event will be Architecture or Urban and Regional Planning Master's degree candidates (with some 30 architecture grads set to complete their studies by this spring), upper-level undergraduate architecture, and interior design students will also be encouraged to seek information about post-bachelor's degree jobs as well as summer internships.
Potential employers wishing to be part of the Career Fair will be provided with one 6 ft. table and two chairs for two representatives per each organization. Electrical power will be available at each participating organization's table so to accommodate laptop computers in order to exhibit the nature of companies' works and achievements. The Fair exhibit hall will be laid out to accommodate a casual free-flow of students stopping by tables to ask questions and to look at computer screenings of work from offices. Private conversations with student employee candidates will be conducted as brief on-the-spot interviews in the afternoon of Fair day. In order to expedite the anticipated number of Career Fair participants, student resumes and a single portfolio of representational work (architecture and interior design students) will be made available to firms and companies prior to the Fair to provide firms with a preview of those individuals they might wish to personally interview prior to arriving on February 7.
Two lunches will be provided to each participating Career Fair organization in addition to complementary designated parking at the UTSA Downtown Campus.
Questions concerning the Fair should be directed to Christi Zuber (christi.zuber@utsa.edu), within the Department of Architecture.
Thanks for considering joining in this festive, but serious opportunity to interact with well-educated students that could become important contributors to the ongoing success of your company.
Sincerely,
Dr. Sedef Doganer, Chair, Department of Architecture
UTSA Department of Architecture 2019 Career Fair
When:
February 7, 2019
9am-12pm – Portfolio Review
1:30pm-5pm – Interviews
5:30pm – Keynote Speaker
Where:
Durango Building
501 W. Cesar E. Chavez Blvd
UTSA Downtown Campus
Fee:
$400  Large Firm
$200  Small Firm (less than 10 employees)
$200  Non-profit Organization / Governmental Entity
Firms Attending
Work5hop; Huckabee; Stantec; Don B. McDonald, Architect Ltd.; LPA; Debra J. Dockery, Architect, P.C.; Jacobs; Alamo Architects; Gomez Vasquez International; Overland Partners; HDR, Inc.
Content retrieved from: http://cacp.utsa.edu/news/utsa-department-of-architecture-2019-career-fair-on-february-7.