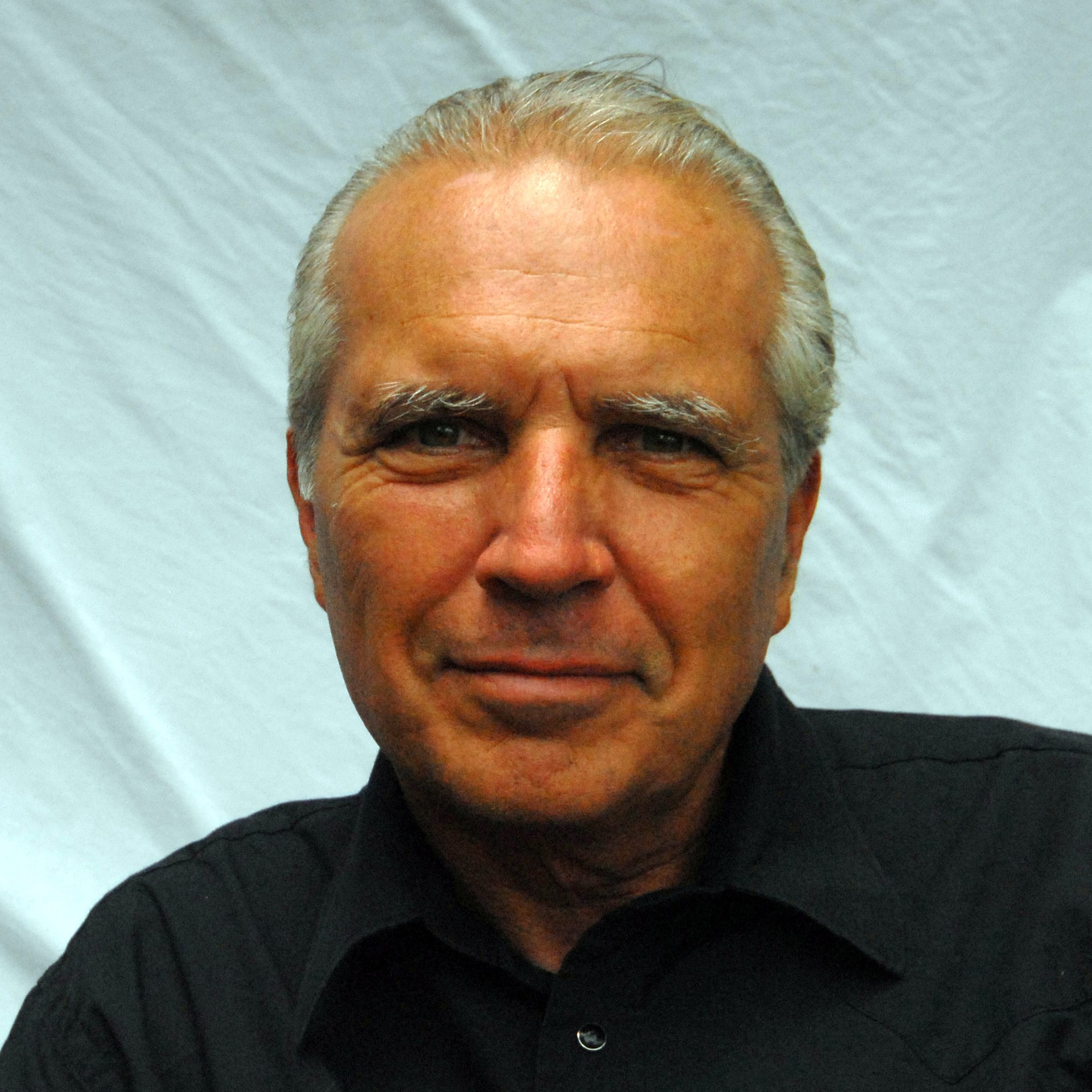 (February 1, 2019) — The UTSA Department of Architecture will host esteemed architect Dan Rockhill, an ACSA Distinguished Professor of Architecture at the University of Kansas and Executive Director of Studio 804, as keynote speaker of the department's Career Fair on February 7. Rockhill's talk, "The Work of Rockhill and Associates and Studio 804: Designing and Building," is free and open to the public and will take place at 5:30pm in the Buena Vista Building's Aula Canaria Auditorium (BV 1.328) on the UTSA Downtown Campus.
Studio 804, Inc. is a not-for-profit 501(c)3 corporation committed to the continued research and development of sustainable, affordable, and inventive building solutions. The University of Kansas Department of Architecture offers this comprehensive education opportunity for graduate students entering the final year of the Master of Architecture program, transfer students, or professionals — anyone who wants to be a better architect by having had the experience of designing and constructing a sophisticated building in its entirety from the ground up. All aspects of the design and construction process are carried out by the students over the course of a nine-month academic year. This includes everything from initial design to completion and includes all systems, construction documents, estimates, working with zoning and code officials, site layout, placing concrete, framing, roofing, siding, setting solar panels, landscape and more.
Rockhill and his students have designed and built eleven LEED Platinum buildings in Kansas and have completed three Passive Institute Certifications. They have won numerous design awards including three American Institute of Architects' (AIA) Honor Awards and two Wood Design Awards, are two-time winners of the NCARB Prize, and are two-time winners of Architecture magazine's "Home of the Year" including their 2018 Sustainable House.
The work of the firm, Rockhill and Associates, is tightly bound to the natural milieu and culture of the Kansas region. In the spirit of regionalism, the area's archetypal forms, Spartan aesthetics, frugal methods, and relationship to nature permeate the results. Rockhill and Associates are the recipients of numerous awards, most recently Residential Architect magazine's Firm of the Year. In all, the work has appeared in nearly two hundred international books and journals, and the firm was recognized as finalists for the 2006 and 2011 Cooper-Hewitt National Design Awards. The book Designing and Building: Rockhill and Associates is available from Amazon, while the book Studio 804: Design Build, Expanding the Pedagogy of Architectural Education was released in December of 2018 and is available from online booksellers. Rockhill has lectured and exhibited at over one hundred venues around the world.
For more information, contact nicole.chavez@utsa.edu or 210.458.3121.
UTSA Downtown Campus map found here.
Read more about the UTSA Department of Architecture's February 7 Career Fair here.
Potential employers wishing to be part of the Career Fair on February 7 should complete the application form at this registration link by the February 1 deadline.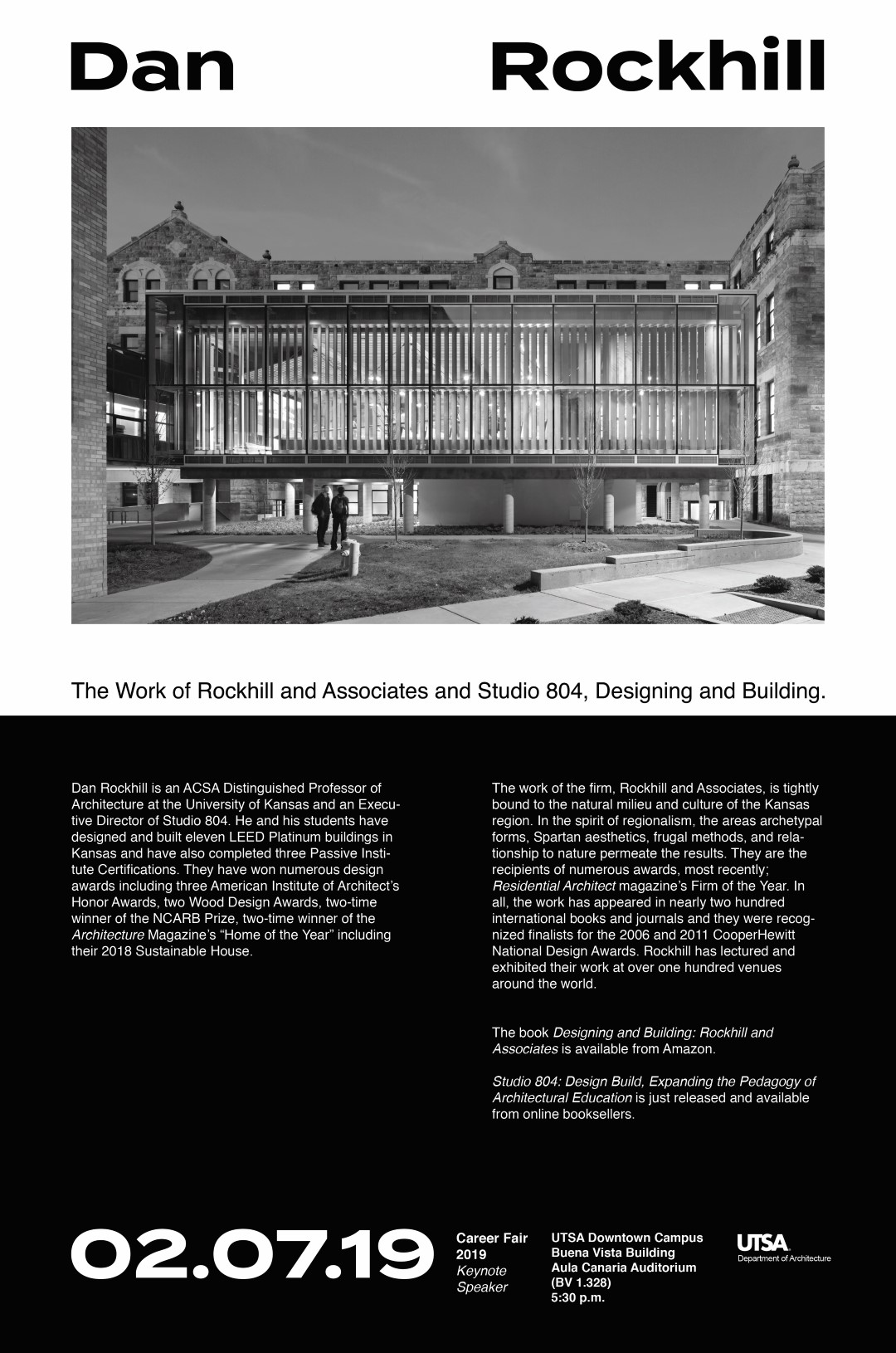 Content retrieved from: http://cacp.utsa.edu/news/utsa-architecture-hosts-architect-dan-rockhill-feb-7-keynote-speaker.