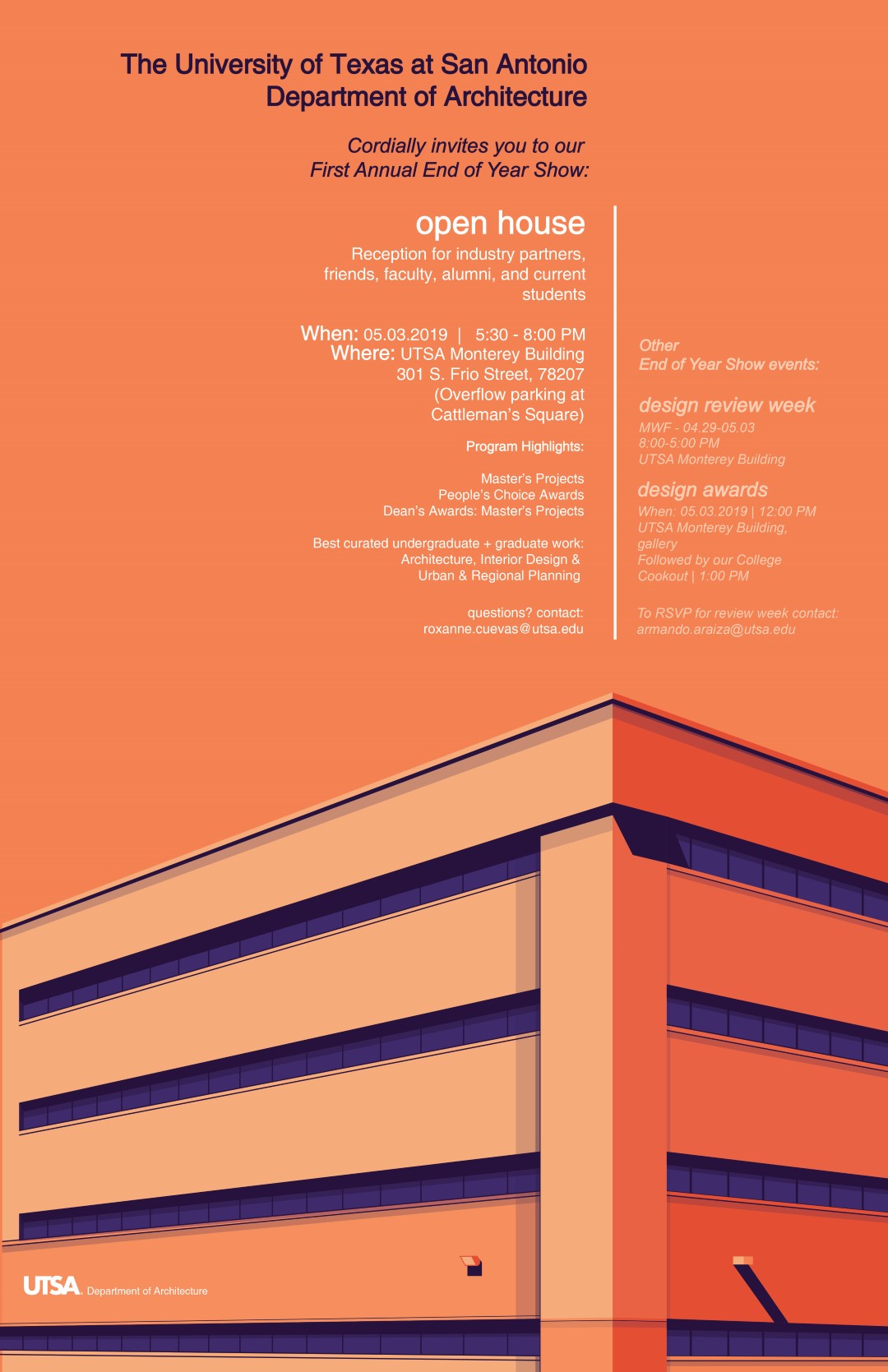 The inaugural UTSA Department of Architecture Open House is on Friday, May 3 from 5:30 – 8 p.m. at our UTSA Downtown Campus, Monterey Building, 301 S. Frio Street. Parking in Monterey lot, overflow parking at Cattleman's Square. The event is free and open to the public.
Our show will present our best curated undergraduate and graduate student work in architecture, interior design, and urban and regional planning, and we will name the Dean's Master's Project winners. It is the finale of a week of student presentations of their semester's work. We hope you will join us for this festive occasion to visit with your fellow alumni, industry partners and friends, faculty and students.
Thank you to our industry partners American Institute of Architects (AIA) San Antonio, RVK Architects, Cosper & Associates Inc., Alpha Consulting Engineers Inc., Cleary Zimmermann Engineers, CNG Engineering, R-S-C-R Inc., MEP Engineering Inc., Moy Tarin Ramirez (MTR) Engineers, Guido Materials, F.A. Nunnelly, Raba Kistner Inc., and Lundy & Franke Engineering for their generous donations to make this event possible.
Questions
roxanne.cuevas@utsa.edu
Join our Facebook event
https://www.facebook.com/events/300490820850304/
We look forward to seeing you there!
Dr. Sedef Doganer, Chair
UTSA Department of Architecture
Event Co-host
Michael Rey, Chair
UTSA Architecture Advocacy and Advisory Council
Event Co-host
Content retrieved from: http://cacp.utsa.edu/news/utsa-department-of-architecture-open-house-may-3.