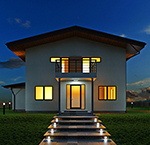 (June 13, 2019) – More than 3400 lightning strikes and damaging winds interrupted power to approximately 57,000 residents in San Antonio, TX on June 6, 2019. On the same weekend, California's largest utility warned tens of thousands of people that they should prepare for extended blackouts due to extreme fire risk. Researchers at The University of Texas at San Antonio (UTSA) have proposed the development of islanded structures or homes that operate independently on solar microgrids without the need to tap into the central power grid.
Their patent was granted by the U.S. Patent and Trademark Office, following research supported by a grant from the U.S. Department of Energy.
Associate Professor Brian Kelley in the UTSA Department of Electrical and Computer Engineering is behind the effort that proposes an infrastructure based on a liquid-battery energy storage system that permits homes to operate with continuous energy using solar power.

"It's a much harder problem than you think," said Kelley. "The sun shines. The clouds come out and the solar illumination intensity changes. We run specific algorithms to optimally manage anticipated energy storage use, real-time power generation, and conversion.  These systems enable the smart grid of the future."
The microgrid operates based on a home's particular sunlight profile. Run on Vanadium redox batteries, the electrolyte-based energy storage is reusable, low cost and has a low environmental impact.
Since the power generated at a particular home would be used in that same location, approaching homes and buildings as individual centers of power generation is a bottom-up approach. It also offers the added benefit of reduction in transmission loss. The device operates with sensors, advanced power meters, and power converters that modify the intermittent generation from the sun to a form that is reliable and easily integrates with A/C power appliances.
Kelley envisions that every home and new construction could have a pool of batteries that supplies and transfers the solar power. His independent microgrid would be part of a wider approach to fully integrate smart cities—where interconnected technology improves the quality of life for residents by maximizing resources.
"We have to make homes and buildings carbon neutral," said Kelley. "This frees up homes from dependency on a single power source, lowers cost, and helps make us energy independent."
Solar energy is abundant in fast-growing metropolitan centers such as San Antonio, which have an appetite for alternative energy. According to the latest figures on solar panel adoption by cities, San Antonio ranked 7th in the nation.
Leveraging smart technology is not new to the university, recently UTSA captured global attention for using solar energy to create smart stop signs in order to prevent vehicle fatalities. The university is also home to the Texas Sustainable Energy Research Institute where work on microturbines is under development. 
According to Kelley, innovations in technology make it difficult to predict what the future of a smart city looks like. However, homes as power islands is part of the ecosystem.
"Services in the cloud will manage smart power meters, renewable power flows between a city's electric vehicle batteries, home energy storage pools, and home appliances.  Autonomous cars will chauffer us to work and back home for family dinner after pit-stops at fast, electric vehicle charging stations.  We are going to love the future!" said Kelley.