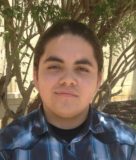 Jonathan Castro
Prior student
Undergraduate Student Chemical Engineering
Was a Senior in the Science and Engineering Program at John Jay High School, San Antonio

Was in the UTSA Pre-Freshman Engineering Program

Was a participant in the American Chemical Society Project SEED

Now an Undergraduate in UTSA's Chemical Engineering Program
Martinelli, M., Castro, J.D., Alhraki, N., Matamoros, M.E., Kropf, A.J., Cronauer, D.C., Jacobs, G., "Effect of sodium loading on Pt/ZrO2 during ethanol steam reforming," Applied Catalysis A: General 610 (2021) 117947. (available online)
Mehrbod, M., Martinelli, M., Castro, J.D., Alhraki, N., Cronauer, D.C., Kropf, A.J., Marshall, C.L., Jacobs, G., "Fischer-Tropsch synthesis:  direct cobalt nitrate reduction of promoted Co/Al2O3 catalysts," Catalysis Today 369 (2021) 129 – 143. (available online)
Martinelli, M., Alhraki, N., Castro, J.D., Matamoros, M.E., Jacobs, G., "Effect of Na loading on Pt/ZrO2 catalysts for low temperature water-gas shift for the production and purification of hydrogen," Elsevier book chapter (Eds. S. Nanda, D.-V. Vo, P. N. Tri), New Dimensions in Production and Utilization of Hydrogen, 2020. ISBN: 9780128195536. (available online)
Mehrbod, M., Martinelli, M., Martino, A., Castro, J., Cronauer, D.C., Kropf, A.J., Marshall, C.L., Jacobs, G., "Fischer-Tropsch synthesis: Direct cobalt nitrate reduction and use of promoters using supports with different interactions," ACS National Meeting & Expo, Aug. 21 – 25, San Diego, CA.
Summer 2018 and Summer 2019 Research:
2019 – Worked on Na-doped Pt/zirconia catalysts for low temperature water-gas shift and methanol/ethanol steam reforming to produce hydrogen for fuel cell applications.
2018 – Worked on catalytic ethanol steam reforming using doped metal ceria catalysts and in situ FTIR spectroscopy. Collaboration with INT-Brazil.