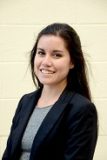 Brittany Schier
P3 Participant, Past Members
Master's Student
Hobbies: In my free time I like to explore the outdoors. Activities usually include hiking,swimming and running. Additionally, I enjoy making crafts and sometimes I get the chance to share my crafts with others to make their living space a more enjoyable one. I also like to volunteer and help those less fortunate in my community and bring some positiveness into their lives.
Areas of Research Interest: I am passionate about research areas that encompass sustainability and a greener future for the world and in my community. My research preference usually relates to statistical analysis and design of experiments to attain a higher understanding of how a community interacts with its environment and how both can prosper at the same time.
Current Project: My project consists of a study of algae as a biomass source and its feasibility to reduce carbon emissions and studying the economic potential for algae as an additive or as an alternative to fossil fuels.