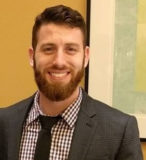 James Stadick
Past Members
Master's Student
Hobbies: I like to spend my free time with family and learning about various topics outside the scope of engineering such as history, language, religion, culture, and architecture.
Areas of Research Interest: Statistical Quality Control, Big Data Analytics
Current Project: Quantification of Dimensional Measurement Uncertainty using 3D Laser Scanners for the Assessment of Manufacturing Variability. This project will enable advanced Statistical Process Control methods for defense manufacturing.