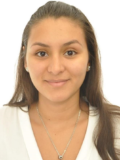 Laura Munera Sanchez
Past Members
Hobbies: I enjoy bowling, watching movies, visiting museums and just being with my friends and family. Better if its joined by good sushi or pizza.
Areas of Research Interest:  In general I am interested in solar, eolic and thermal renewable energies.  More specifically, I like to analyze and improve their performance through computational simulations.
Current Project:
Dual-Mode Rotors for Small Horizontal-Axis Wind Turbines
Resume
I obtained my B.S. in Mechanical Engineer from EAFIT University (Medellín, Colombia) in 2015. During my studies, I was a member of the research group in industrial maintenance (GEMI) and coordinator of the DIAGNOSTYKA research incubator associated to the group.
I carried out an internship related with cable maintenance technologies of cable car systems using non-destructive testing.  After obtaining my B.S., I worked on the Helios – Solar brick project during 2015 and 2016.  In this particular project, me and my team were granted a patent "Elemento estructural tipo ladrillo que permite la fijación de elementos eléctricos, ópticos, electrónicos y electromecánicos" (Structural element of brick type that allows fixing electric, optical, electronic and electro-mechanic elements), with application number: 14248214
Since 2016, I had been working with the OlarteMoure team as a Junior Associate Technician for the Patents area in searches, drafting and patent prosecution.
I am currently enrolled in a Master in Mechanical Engineering program at EAFIT University. Also, I am  a research scholar at UTSA, as an intern for the TSERI