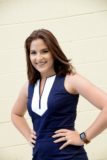 Maria Finol
BeAWARE Participant, Graduate Student, P3 Participant
Doctoral Student
Hobbies: When all the assignments are turned in and the deadlines are met, I enjoy unwinding watching various shows alongside my husband. In trying to maintain a healthy lifestyle, I exercise through relaxing yoga sessions and ice skating throughout the week when possible.
Areas of Research Interest: I am interested in environmental issues and applications to use my studies and research to improve the world we currently live in and its future.
Current Project: Gaining insight regarding supply chain logistics and operations and how these work within the biofuel industry.