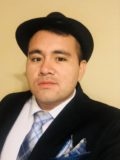 Samuel Uriel Armendáriz Hernández
Graduate Student
Hobbies: My main and semi-professional hobby is music. I have studied classical guitar, singing technique, musical composition and Jazz. I have experience performing live and recording some CDs.
I am also following a weight loss program. I hope to reach this goal by preparing my own healthy food and working out 6 days in a week at least 30 min per day. I combine this by watching youtube tutorials about cooking and working out.
Areas of Research Interest: My professional objective is to use my knowledge and experience to impact positively on our society and environment. My areas of interest are Optimization, Statistical Control of Process and Applied Mathematics.
Current Project: Creation of Control Charts applicable to big data.