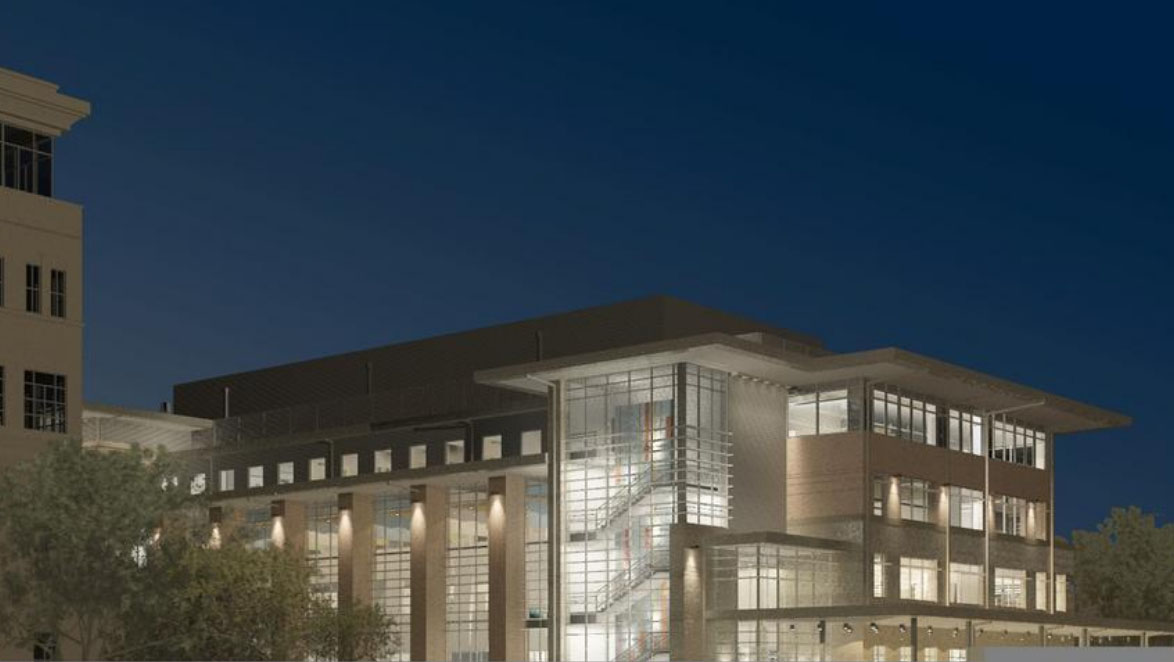 (Feb. 22, 2017) — Design plans are underway for a new state of the art building on The University of Texas at San Antonio (UTSA) Main Campus. The Science and Engineering Building will be built in a grassy area off Bauerle Road and Key Circle and will house classrooms, study spaces, teaching laboratories and research facilities for Science, Technology, Engineering and Mathematics (STEM).
This will be the first new building at UTSA since the North Paseo Building opened in 2014.
The building also will be the largest construction project in UTSA history at $95 million. The majority of funds will come from tuition revenue bonds, which the Texas legislature approved during the 2015 session.
Paul Goodman, UTSA assistant vice president for facilities, said the idea for it goes back about 10 years.
"We knew our teaching labs on campus were getting older and the university needed to start looking at ways to replace them," Goodman said.
Currently, a number of UTSA's STEM-related classrooms and teaching laboratories are spread out in buildings across campus. The new building will bring many of them together under one roof, engaging thousands of students from various disciplines in different areas of study.
Goodman says that one of the most unique features of the building is the magnitude of exterior and interior glass. Many of the laboratories will be surrounded in glass so students and visitors walking by can see what's going on, a concept referred to as science on display.
"The biology, chemistry and engineering labs are going to be very visible," Goodman said. "Students with different majors will interact, so there's a higher potential for students to connect with other people who have different interests. They may discover a new passion and switch their major. Studies show universities are more likely to retain students that way. This design also increases the likelihood that students will attend graduate school and become interested in research instead of going into the workforce."
Top-tier research will be conducted inside the Science and Engineering Building. The 4th floor will be dedicated to brain health research and chemical engineering. Leading the brain health revolution is one of UT System Chancellor William McRaven's "Quantum Leap" initiatives to provide the Texans with the very best in higher education, research and health care. UTSA plays an important role in this initiative.
"UTSA researchers are tirelessly working on cures for brain diseases," said George Perry, dean of the UTSA College of Sciences. "These new state of the art facilities will provide our professors and students with the best environment, laboratories and equipment to further their research."
Another innovative aspect in the building will be the Engineering Maker Space, a 17,000 square foot area where engineering students can design, test and fabricate their capstone senior design projects. They will have access to various tools, materials and storage space for their projects. The space was the idea of UTSA College of Engineering Dean JoAnn Browning.
"The maker space represents the culmination of an engineer's college training where the concepts and learning objectives from the prior three years are put into practice during senior design," said Browning. "Our students will utilize the maker space's features including a full machine shop, 3D prototyping facility, metrology lab, and assembly space. The maker space also has dedicated collaborative rooms for business students and sponsors to interact with the engineers and help guide a design from prototype to commercial success."
Additionally, the new building will feature laboratories and classrooms dedicated to UTSA's new chemical engineering degree program. Among the most anticipated features is a two-story space that will house distillation columns. In this space, students will be able to collect data and analyze the results in real-time, and this reflects the types of hands-on requirements of a practicing chemical engineer at an industrial facility. To help support this program, Bill and Margie Klesse have committed a $1 million gift from The Klesse Foundation in support of scholarships and equipment for chemical engineering, including a distillation column.
This will also be the first UTSA building using a stone and brick blend. Robert Espinoza, UTSA director of Capital Projects, said he and other university architects worked with the campus community to choose a brick that will become the standard for future university buildings. The stone will also complement UTSA's adjacent science and engineering buildings: the Biotechnology, Science and Engineering (BSE) and Applied Engineering and Technology (AET).
Goodman said utlity work will begin this summer. Design plans for the Science and Engineering Building will be finalized by fall 2017. Construction is expected to begin in early 2018.
The building should be complete in the summer of 2020, just in time for students to return for the fall 2020 semester.
UTSA is ranked among the top 400 universities in the world and among the top 100 in the nation, according to Times Higher Education.