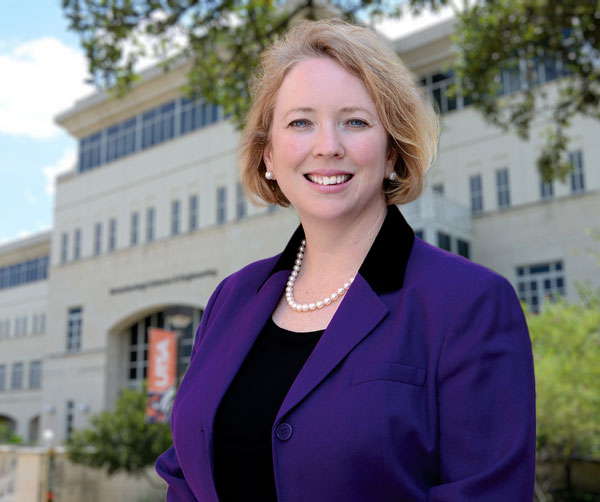 (July 19, 2018) — Two of UTSA's best have been selected for the San Antonio Business Journal's 2018 Women's Leadership Award. JoAnn Browning, dean of the UTSA College of Engineering (COE) and David and Jennifer Spencer Distinguished Chair of Engineering, and Maricela Oliva, associate professor of educational leadership and policy studies and associate vice provost for academic and faculty support, will be honored for their leadership in their fields and in the San Antonio community.
Browning specializes in structural engineering, earthquake engineering, engineering materials, and reinforced concrete design and analysis research. Her research has led to specifications to improve the durability of concrete bridge decks with corrosion protection systems and low-cracking high performance concrete materials. She also contributes to the design and enhanced performance of concrete buildings and bridges subjected to earthquake motion.
Since becoming a dean at UTSA in 2014, Browning has implemented many new ideas and concepts in the COE to enhance student success in the classroom and in laboratories. She was instrumental in launching a chemical engineering program in 2017, the sixth engineering undergraduate specialty offered at UTSA, fulfilling an unmet need in South Texas.
With unprecedented growth in enrollment in the COE over the past decade, Browning helped build a case for support for a new Science and Engineering Building (SEB), a $95 million state-of-the-art structure under construction on the UTSA Main Campus. Once it opens in 2020, the SEB will house UTSA's chemical engineering program and brain health initiative. It will also include an engineering makerspace for students to collaborate on projects and a distillation column for chemical engineering students to study different types of mixtures.
She also spearheaded the need for a Large-Scale Structural Testing Facility, which is under construction on the West Campus. The 50-foot tall facility will provide faculty and students a place to test structural systems, such as concrete buildings, in a large and realistic setting.
Oliva has more than 30 years of higher education experience throughout Texas including 13 years at UTSA. As associate vice provost for academic and faculty support, the lifelong educational administrator serves as a liaison to the Faculty Center and helps facilitate the implementation and review of all faculty support programs, including faculty mentoring and faculty recognition programs.
She also leads initiatives to advance the Downtown Campus. As a member of the Downtown Campus Council in 2015 and 2016, she represented various aspects of the university including student affairs, business affairs, academic affairs and student services.
The UTSA professor teaches courses in student affairs, higher education, multicultural issues and conducts research exploring Latino/underrepresented student college access, P-20 (school-university collaboration), cross-cultural issues in higher education and higher education policy. She served as the initial Higher Education Coordinator in the Department of Educational Leadership and Policy Studies, a role in which she guided program development and implementation for a Master's of Education and a Higher Education doctoral emphasis in Educational Leadership and Policy Studies. As coordinator, she also spearheaded creation of the Texas Higher Education Symposium, a statewide annual disciplinary conference for faculty and graduate students. The symposium, now in its ninth year, is viewed as so successful and needed for the continuing development of higher education training in Texas that it has become a multi-institution partnership. Her leadership in service and program and scholar development was recognized in 2008 when she received the President's Distinguished Achievement Award from UTSA.
Browning and Oliva will be honored at the Women's Leadership Awards luncheon on Aug. 23. They will also be featured in a special section of the San Antonio Business Journal's Aug. 25 issue.